Outstanding Outdoor Digital Signage Display Everywhere!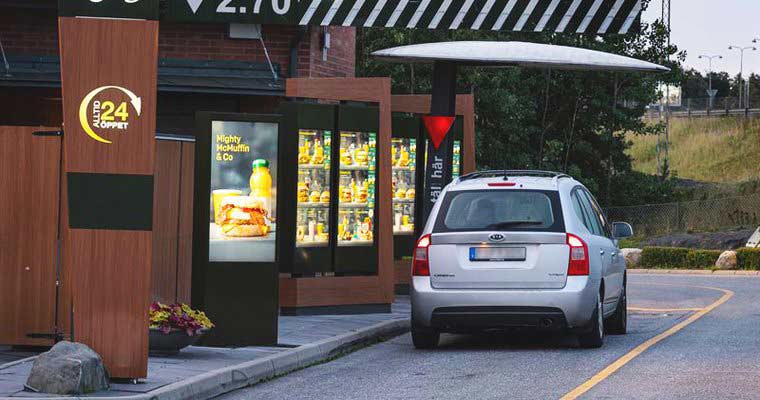 The Background
From restaurants, bars, and food trucks to food processing facilities and grocery stores, we are honored to be the trusted provider outdoor digital signage display across the food industry. If there's one thing that goes together like burger and fries, it's restaurants and outdoor digital signage. Use our tips to create great digital menu boards.
In 2019, Outdoor digital advertising screens for sale case in the QUAY side Singapore sea food restaurant, show the menu and the best sales, discount automaticly, more important, the  pictures and the video on the screen will be much more easy to follow and understand.
We have also outdoor digital signage displays, car drive thru display menu for sale in Singapore, Greece, South Africa, Thailand, the Netherlands, and Sri Lanka. From the size 32 inch, 43 inch 55 inch to 86 inch, single side, dual/ double sided, or the one side lcd, one side light box, floor standing, wall mount.
Thinking of boosting your offerings' visibility with a little modern exposure? You should consider getting the best digital signage in China!
55 inch Outdoor Digital Signage Display on the Quayside Seafood shops in Singapore
Increase drive-thru sales and promote order efficiency with YXD55S-DWP 55 inch Outdoor Floor Standing Digital Signage. This all-weather rated, outdoor unit offers a low operating cost, thin profile, modular design, and an easy, two-man installation process. The optional LG High Bright Outdoor Display offers full HD 1080p resolution for a bright crisp picture, even in direct sunlight. By making the switch to digital, with XDS-CMS Outdoor Digital Menu Board, you will no longer need to manually static menu content throughout the day. Instead, the digital content can be d remotely and in real-time, creating a seamless drive-thru experience for customers and a more efficient restaurant.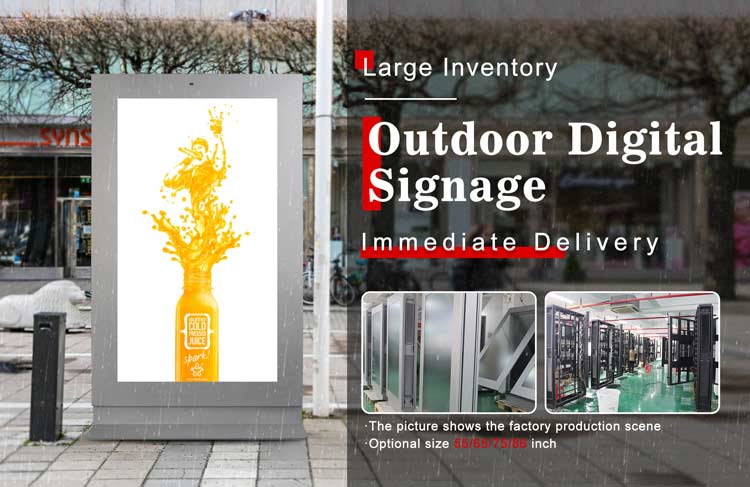 Outdoor Restaurant Sign Solutions In Singapore
The solution that you have been looking for is outdoor digital signs, specifically designed for the restaurant industry and suitable for any outdoor venue. 
Commercial outdoor digital signs are simplifying restaurant menu display and advertising for companies across the country. Outdoor restaurant signage weatherproof enclosures paired with digital monitors are becoming the menu board of choice since these signage options have text, photo and video display capabilities as well as audio. Many digital displays even have easy to use scheduling features across multiple displays.

In the past, even indoor restaurant digital signage has been easy to damage with heat, flying objects, and vandalism. Now, we independently researched and developed the Double sided Outdoor Digital Series is  is IP65 protected. This means it is designed to withstand water and other weather like damaging effects of the sun, rain, snow, dust and wind. This is an essential feature for outdoor displays.


Our outdoor digital signage is suitable for common types of digital displays, including LEDs, LCD screens, digital standing kiosks, digital media boards, and digital video walls.
HERE'S WHY A DIGITAL OUTDOOR DISPLAY ADVERTISING CAN HELP YOU PULL IN MORE CUSTOMERS:
Printing is outdated. People appreciate great graphics and amazing pictures of your food. Also, if they can interact with the menu that's even better.
Testing is easy now; you can literally test new graphics or pictures whenever you want. With a few clicks, you have a completely new menu displayed. 
Stand out. While other restaurants are still using printed or handwritten menus, you will be up to date with a digital menu board that you can be proud of.
Why Choose Our Commercial Display Solutions?
Lifetime Technical Support
From the moment you receive your product, throughout the duration of your warranty and even after your warranty has expired we are here to support you. If you require any assistance is setting up or using your product, or have any problems at all, we can provide free technical support via telephone and email.
On-site Support and Maintenance
If needed, we can provide an installation service for any of our products. We can also set up service-level agreements for larger projects that require maintenance contracts. *Additional ges may apply.
Extended Warranty
All of our commercial display products come with a 3 year commercial warranty as standard but if you want to extend this you can upgrade this to cover a 5 year period. *Additional ges may apply
Training
As well as providing free remote CMS training sessions and webinars we can also visit you to deliver bespoke training for our software and hardware* Additional ges may apply.
Advanced Replacements
Should your display suffer from any kind of hardware failure during the warranty period we will send you an advanced replacement and arrange for your old display to be collected, free of ge. This ensures no downtime where you are without a screen.
Custom Product Testing & Configuration
If you need us to test third party software or a website, or configure your screen in a particular way before it is dispatched (e.g. in a particular orientation or network mode), we can do so to make your life easier.
3D Rendering
Want to know how a particular screen will look once installed? Send us a photo of the location and we will create a 3D rendering of any screen in situ to help you to visualise how amazing it will look.
Logistics Support
We hold more stock in our China warehouse than any other manufacturer so we can help you meet tight deadlines. For last minute orders we can also offer special express or morning delivery options (additional ges may apply). We also carry out China based quality control checks on every display before it leaves our warehouse.
Project Support
If you need to loan a sample unit to test we'd be more than happy to arrange this. We can also provide a rental service for temporary projects* Additional ges may apply.
Customisation
Your display can be customised to suit your requirements by adding your logo or printed graphics or even tailoring the colour of a display. We can also carry out hardware modifications to existing products or manufacture bespoke solutions for special projects. *Additional ges may apply.
The Application Case
Outdoor digital signage display cases in Singapore, Greece, south africa, Thailand, Netherlands, Sri lanka...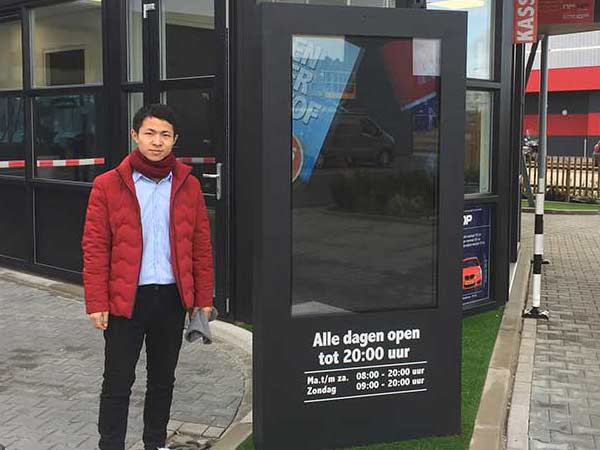 65 inch floor standing outdoor digital signage display cases in Netherlands, designed for the local auto car washing 24/7 hours display, show some discounts for the car users, much more useful, and valuable to pass and display the informations.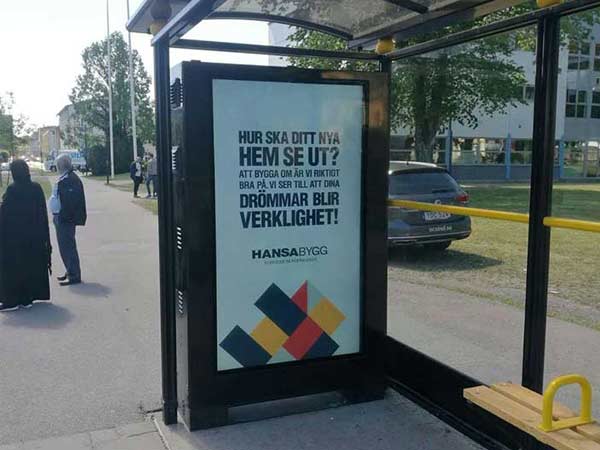 75 inch dual/double sided 3000 nits bus shelter station commercial display in Sweden, also display some real time bus or the local government information, also for the brand reputation display.
another bus station 65 inch dual side case in Greece, much attractive for the eyes to know the branding information display, especially in the dark night street.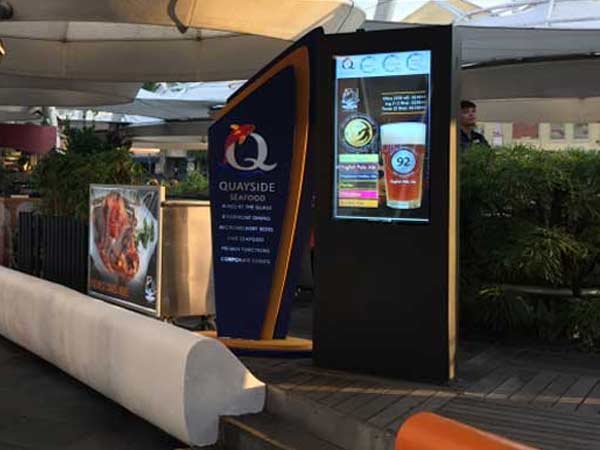 Outdoor digital advertising screens for sale case in the QUAY side Singapore sea food restaurant, show the menu and the best sales, discount automaticly, more important, the  pictures and the video on the screen will be much more easy to follow and understand.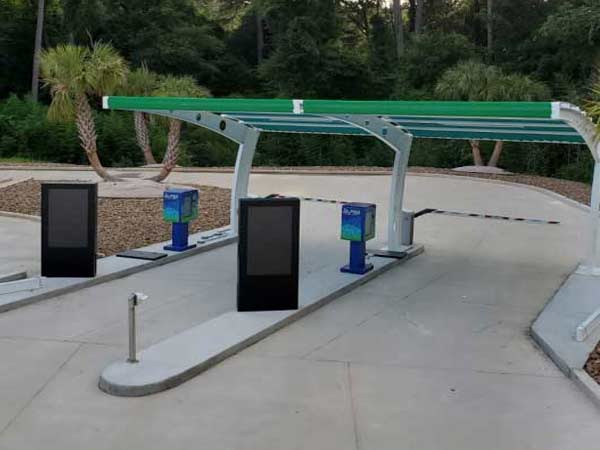 USA cases on the toll gate, new design on the 55  inch outdoor digital signage display solutions, easy and valuable to show your brand reputation and the information display.
For more outdoor digital advertising screens for sale cases, please contact with the sales and the local dealers.
75 inch outdoor display 3000 nits display installation in United  kingdom UK.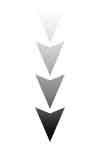 Powered by XDS plus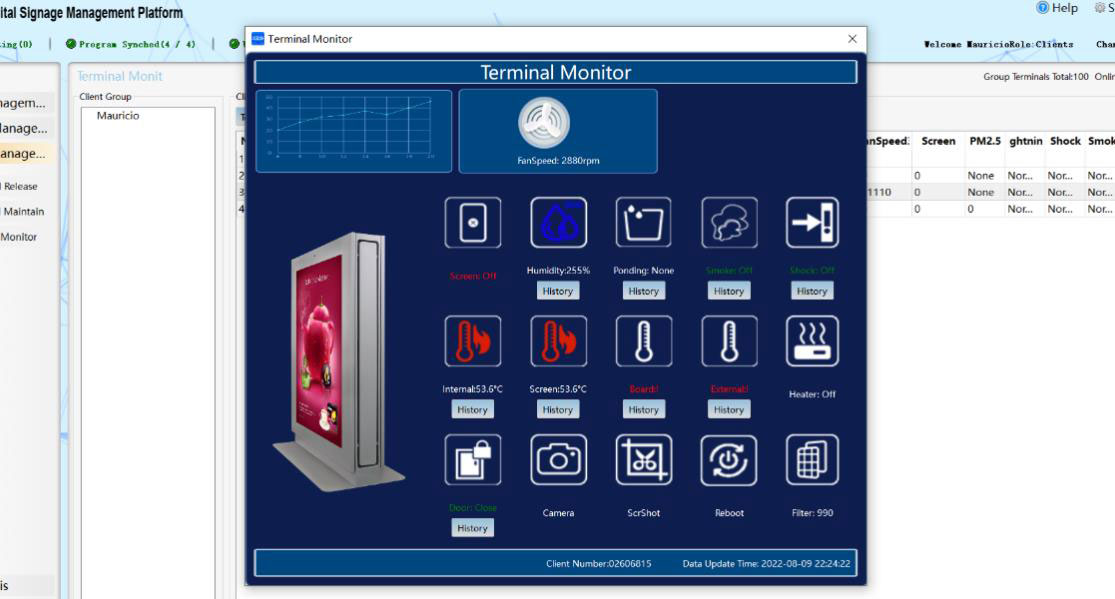 The XDS is based on the Outdoor signage contents management, it is been integrated with the useful sensor detection, fans speed, temperature, door status, camera monitoring , humidity, PM2.5, Screenshot, these data will allow the outdoor device to give the condition message , truely Zero maintain.Please contact us for a free cloud account, also please check here for the video demo page.

Designed for car wash signage market.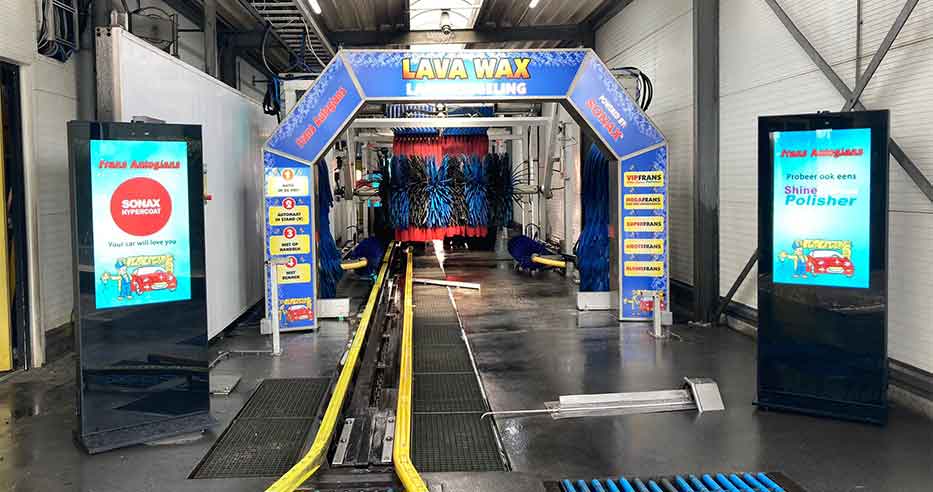 1.IP65
2.IK 10
8.Three-year Warranty Option.
9. CE FCC Rohs
More:
How to choose the right protective glass for your outdoor display,  AR, AG, or Laminated glass, please watch this video  https://youtu.be/-07p_0C5H_w
Current Partners in Countries List :










Looking for partners around the world 
Please click here