Outdoor Digital Poster for Seafood Shop Display
Published:2019-05-09
Views:3147
55 inch displayed on the Quayside Seafood shops in Singapore.
Asianda advanced new  model-yxd-55p, waterproof, high brightness-3000 nits outdoor digital signage with the cloud service, can be more useful for the Singapore commercial retail shops.
Thanks for the Outdoor Digital Signage technology, Asianda manufacturers help more and more business companines to do the outdoor advertising displays in a more  easy and more efficiency way, more attractive, more easy for the eye catch.
Asianda focus on the commercial outdoor lcd display since 2010, more than 10 years experience, we have better understanding on the outdoor media  companines, retails, schools, communities, restaurant, subway, outside LCD signs to display their information, the outdoor digital screen will be more useful on the commercial display
Based on the new outdoor ip55 design, make it waterproof, our service now can cover to the Singapore, nz, Austraila, Canada, uk, and Brisbane, especially on the  Portable outdoor digital signage  you will find more uesful information.
Also for those outdoor digital signage displays solutions, we always trying to with new technology, try to be better quality, better service, even better price integrated with better outdoor digital signage software.
You can find more outdoor display product information on our outdoor product catalog,outdoor digital signage displays.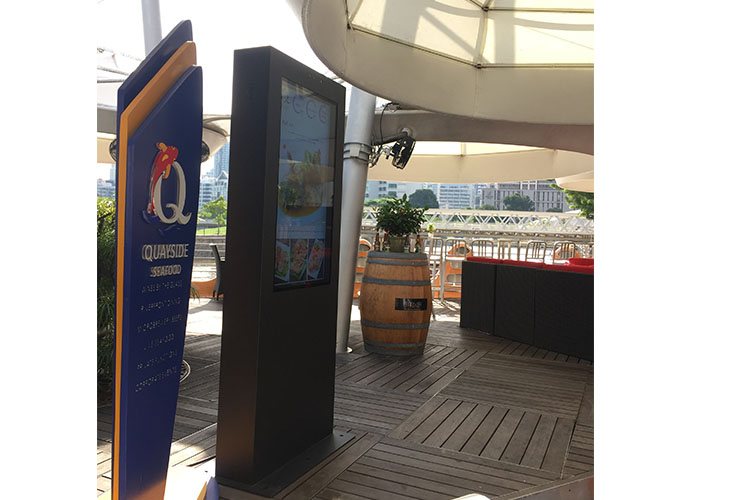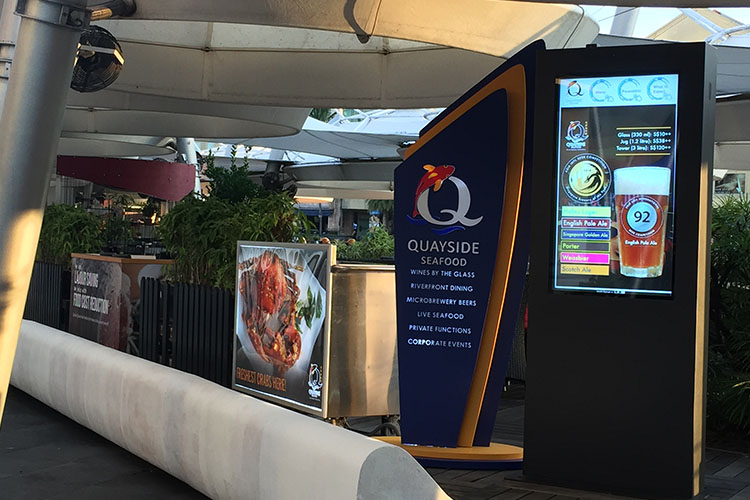 No matter how advanced the technology is, outdoor activities are still an indispensable element in people's daily life. In order to ensure the transmission of outdoor information, an outdoor information dissemination platform is indispensable, and outdoor digital signage is one of the leaders. Similar to televisions and indoor digital signage, outdoor digital signage is also composed of a series of electronic components. Facing the complex and changeable outdoor environment, if you want to ensure normal use, you must consider more than conventional system construction. Factors.
Hardware selection should be "sound-proof", and anti-theft performance should be paid attention to
In outdoor applications, Portable outdoor digital signage must resist damp, high temperature, severe cold, strong winds and other force majeure factors. If they are not handled properly, any of them will cause fatal damage to the screen. Therefore, in the screen selection process, we must consider For these factors, choose a professional monitor and take certain protective measures.
In addition to the obvious destructive factors such as extreme weather, users also need to consider some "accumulated" type of injuries, sand and dust is a representative of them. It is ubiquitous and will unknowingly damage the outdoor digital signage, seriously affect the use effect and shorten the service life. Therefore, in the construction of outdoor digital signage, we must pay attention to the dust-proof design. It is worth mentioning that if the outdoor digital signage display is located in a lush and wooded area, such as a park, you must also pay attention to preventing pollen. Although the LCD display will not sneeze, the internal components will be damaged, which will affect normal use.
Since 2010, Asianda has focused on commercial outdoor LCD displays and has more than 10 years of experience. We have a better understanding of outdoor media companies, retail, schools, communities, restaurants, subways, outdoor LCD signs to display their information, outdoor Digital screens will be more useful on commercial displays