From Asianda, what kind of self-service order kiosk machine will you get?
Published:2021-03-23
Views:834
In 2021. the post- epidemic era of COVID, people more and more to accept the self-service bill payment machine , keep social distancing to choose unmanned self service bill payment kiosk services.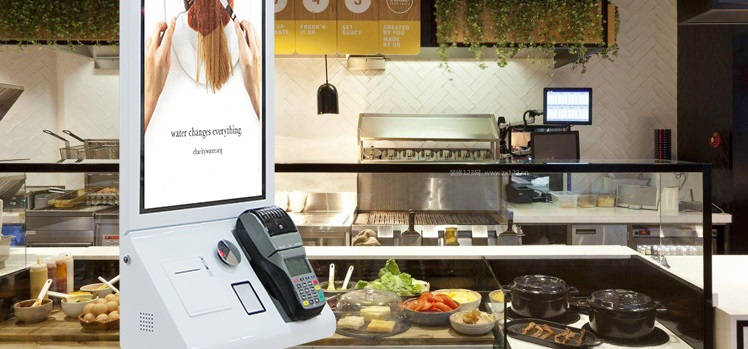 There are many self order and self service payment machine in McDonald's, KFC, and large supermarkets. It can help people reduce the time spent in queuing, have a faster shopping experience, keep a social distance, and reduce crowding. 
Asianda, as self service payment kiosk suppliers, after 10 times adjustment, finally to chose the 24 inch display solution.  It make the overall size of the machine is not too large and heavy, and many external features around 40cm from the center point.
 Asianda self service bill payment kiosk focuses on the interactive with humans and machines, provide a more convenient and best user experience on view content. When we try to pay in the supermarket, the small screen and displayed content is relatively small, sometimes the information is not clear. 24inch is better to display information.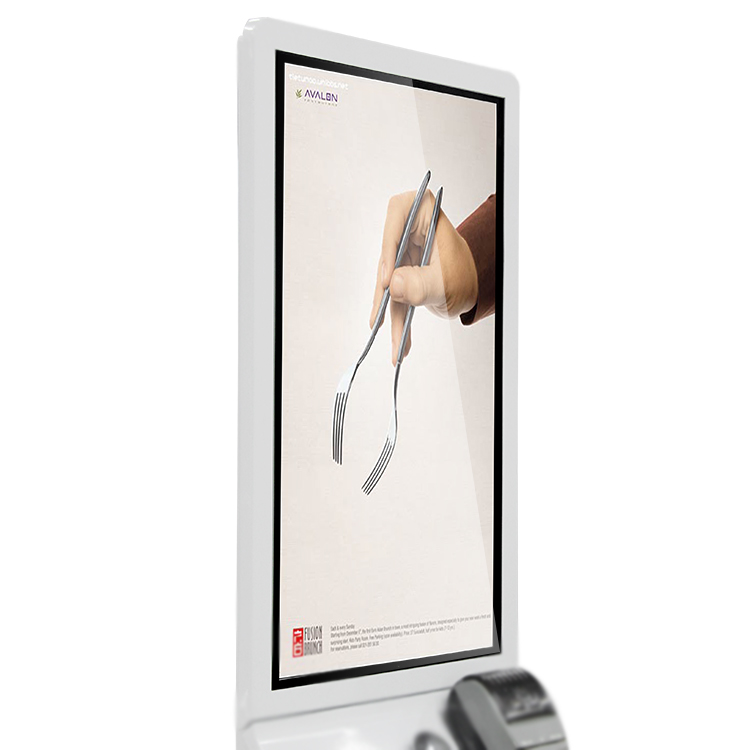 We provide the PCAP capacitive 10-point touch glass, and it is Glass plus Glass mode (G+G). It with good durability and smooth operation feel. It can give people the best visual sense as adopts the full bonding of touch screen-display-tempered glass. 10-point touch function provide more use way.
There are 5 advantages of G+G:
1. Hard and durable. The hardness of glass can reach above 8H. 
2. Corrosion resistance. It is not afraid of strong acids and alkalis. 
3. High light transmittance. The light transmittance of the G+G glass capacitive screen is as high as 91%.
4. The control feels smooth. G+G's glass screen is very smooth, and the control feels very smooth when the finger is swiped across.
5. High reliability. The bonding between the cover plate of G+G capacitive screen and the sensor glass is made of advanced optical glue and vacuumed, and the service life and adhesion are very high.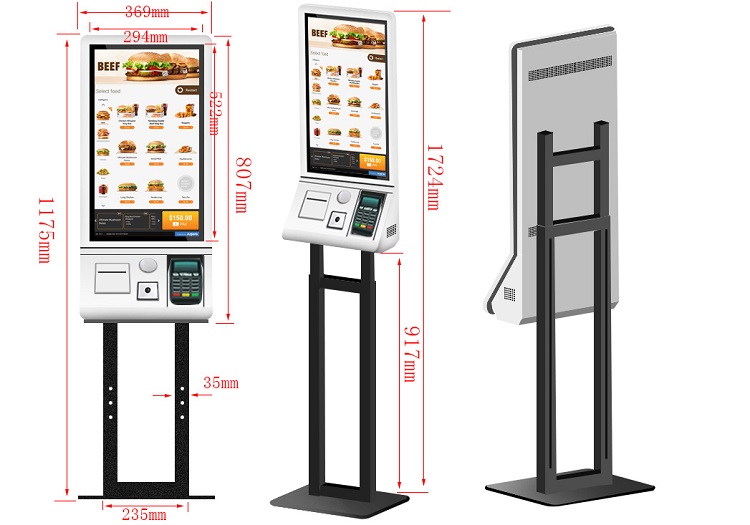 The whole machine is very light and thin, and the weight of the whole machine is only 18kgs. It only takes up a very small space and standard VESA, which can be easily compatible with your other equipment or install on wall.
Close to the center of the screen, about 40cm (an elbow's length), There are 58mm thermal receipt printer, code scanner, and a POS machine (Also support NFC reader, fingerprint scanner etc). The thermal printer is setted in the left-hand side, when you leave, it is easy to taken away, it is better to reduce the impact on other features.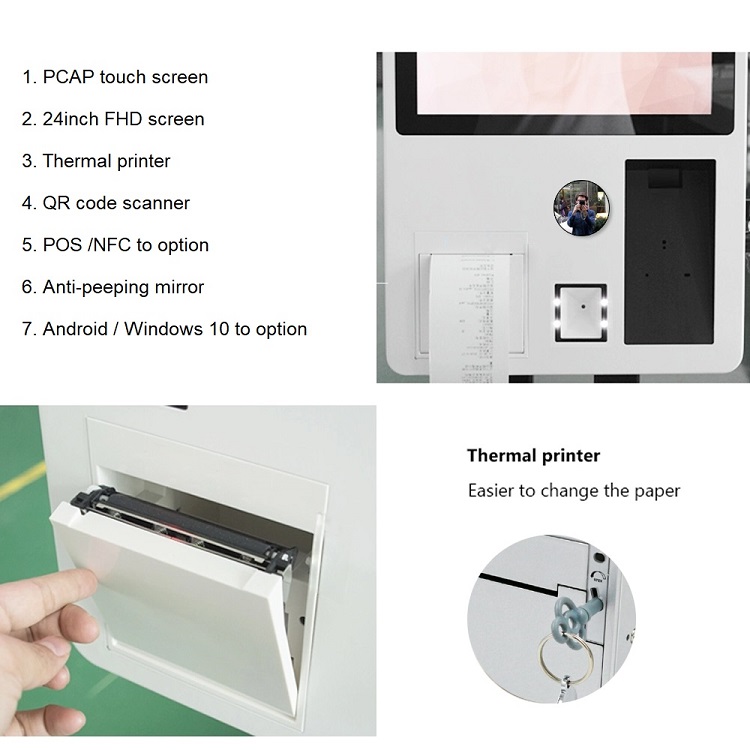 There is a hidden opening by key. It is easy to change papers daily, when the front door open. The key, which also ensures that the device will not open by others in public places.This way can meet more different customer needs, reduce high requirements for the installation environment and area. For example, some customers will hang on the wall, or set it on the edge of a narrow corridor.
The max printing length is 100KM, it can support to work at least 3 years. Option to full-cut / half-cut paper output, the cutter supports 1 million cuts. Of course, the half-cut can keep paper with device, easy to take away . The paper width supported 58mm or 80mm, there are four fonts can be printed.
As a large proportion of the population are used their right-hand as main hand, the POS machine is on the right side. Of course, we also support customized left-hand solution.  The standard area is 100*160mm, meet most POS machines in the market. 


In middle, there are anti-peeping mirror ( protect the safety when we enter password)and a scanning reader. It support to read barcodes and QR codes, which print on paper, screen, plastic and other carriers. Under complex environments, running quickly and stably. The LED indicator light can illuminate the carrier in the dark environment. The plus or minus 55 degrees of inclination angle, 4cm to 20cm of readable distance. It support 24 kinds code such like UPC-A, UPC-E and 4 kinds of QR codes, such as QR and MICROQR etc
More information, please contact us or visit here.