What Is Self payment Ordering Touch Kiosk
Published:2021-01-07
Views:1358
What is self-service payment kiosk?
A self-service payment kiosk is essentially a screen device at a fixed point. It can be a point of sale (PoS) self-service touch screen kiosk check-out, like those used in supermarkets or shopping malls, or a kiosk in an airport that allows people to check-in without joining a counter queue.
An example of this is buying goods at a supermarket, where money is ed or credit card is swiped, and shopping list is printed for you without having you interact with supermarket employee.


Where are the self-service payment kiosk applied?
Restaurants

-

Fast food restaurants employ self payment kiosk so that you can order food and pay for it

at the kiosk itself

when your order is ready.

 

Government-Government buildings employ payment kiosk for handling parking ticket exchanges or for payment of a pre-existing fee or fine.

Hospital

-Although most kiosks at hospitals are information kiosks, many are fitted with nfc and payment options. These payment options allow patients to pay their medical bills.

Shopping malls or supermarket-They use self-service payment kiosk to reduce costs and create non-touch shopping experience.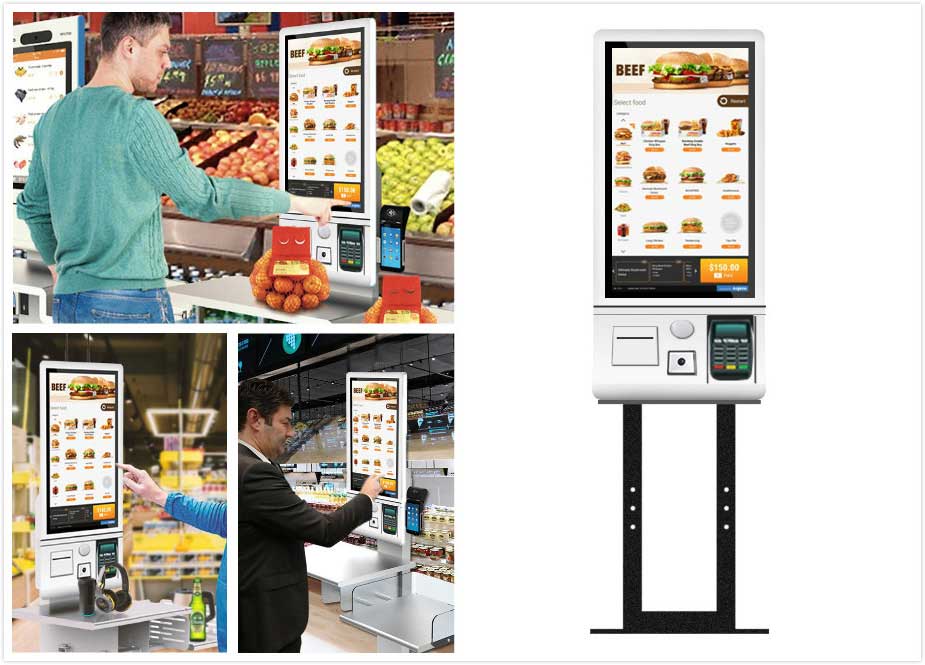 What are the benefits of self-service payment kiosk?
 

Less human staff are required to serve customers/passengers, resulting in resources savings for the business

 

Customers/passengers

could save more time for queuing or waiting, which also helps reduce stress for any remaining counter staff

More people can be served in a shorter space of time, increasing efficiency and related profits, from Asianda payment kiosk vendors


 Offering multiple features and functions; the same kiosk can offer information as well as take payments, print tickets and generate more revenue through upsells and advertising