Smart City Bus Stop Digital Signage Solution
With the gradual development of smart public transport in major and medium-sized cities across the country, the goal of changing the travel experience of citizens and alleviating travel difficulties for citizens is gradually being realized. The smart public transportation system includes new hardware facilities such as public transportation vehicles equipped with GPS equipment, as well as software systems such as voice broadcast at the station, is becoming more and more popular. On the other hand, the replacement of traditional bus stop signs is also becoming a trend. The digital signage market is becoming more and more lively, and a large number of smart bus stop digital signs have been purchased and installed to serve the general public. The digital signage of the bus station is different from the ordinary bus stop sign in the past. The former will be equipped with one or more high-definition LCD display screens, and embedded smart chips, so that it has display attributes and smart attributes at the same time, which truly realizes electronic public transportation.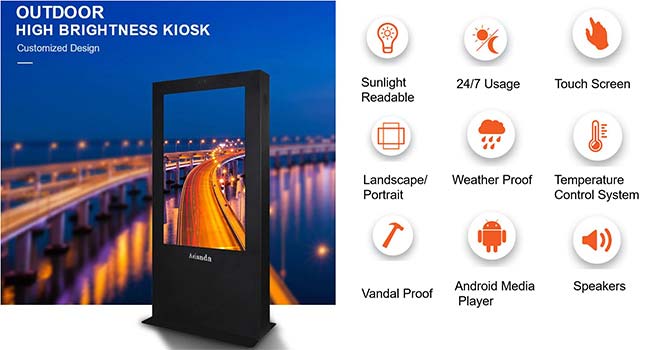 How do we install an outdoor digital signage at a bus station?
To set up a digital signage at a bus stop, you need a few different items. First, you need a digital signage player. This device presents content on your display. The digital signage player requires a power source and an internet connection via Ethernet cable or WiFi. Using a suitable adapter, the digital signage player at the bus station can also be connected to the Internet through a mobile phone network via a SIM card. This method of connecting to the Internet is often ideal for digital signage at bus stops, as many bus stops are far away from accessible WiFi networks.
As an outdoor display device, the smart bus station digital signage must first be able to withstand the harsh test of the outdoor environment. Outdoors, exposure to the sun, rain, snow, and temperature differences will cause great damage to the display equipment. Being able to withstand these tests is the most basic quality requirement for every qualified smart bus electronic stop sign equipment.
Waterproof

:

  

Smart bus station digital signage products are diversified, and the waterproof level can reach IPX5, which can operate normally in heavy rain.
Dustproof:  Our IP65-rated displays are rugged, rugged, weather-resistant, dust-proof, and designed for 24/7 operation. In addition, the available anti-scratch, anti-shatter and anti-high impact features make these outdoor digital signage the worst nightmare for vandals.
Anti-riot:  6mm AR high-transmitting tempered glass, tempered and explosion-proof.
Anti-theft: Through our professional design, no screw will be exposed on the exterior surface. Combining the anti-theft function of the lock and solid structural support, the anti-theft problem is solved immediately.
Lightning protection: In order to achieve all-weather outdoor playback performance, a reliable lightning protection and electrical control design is used to provide security for the equipment in thunderstorms.
Next, you will need digital signage software to manage your bus stop digital signage. The software allows individuals to manage content on multiple digital signs from a single web interface. With digital signage software, individuals no longer need to go to digital signage to change content.
Smart City Digital Signage CMS Software Solution
The content management solution of the digital signage network can publish bus ETA, emergency notices and advertising content in real time on the digital signage display or TV screen. Our software solution is a modern and easy-to-use cloud-based digital signage software for creating and managing digital signage.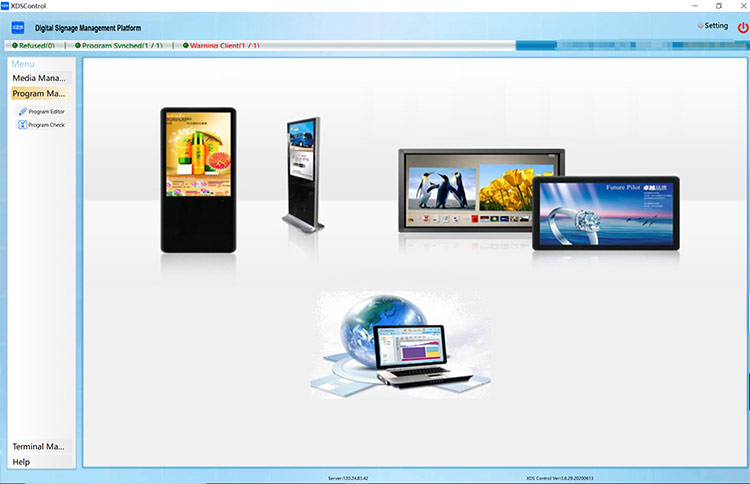 The main advantages of bus digital signage
Compared with ordinary static advertisements, bus stop display creates more possibilities. Most of the audience of static advertisements may be passers-by, who are busy with work every day and rarely pay attention to what's new on the ship. When people sit on the bus and have nothing to do, the digital signage of the bus station can easily attract people's attention through high-resolution and real-time video. Compared with traditional printing paper, it is easier and cheaper to all content at the same time through the remote control of the publisher's office.
Can instantly

Use the least power

Perfect readability in the brightest light and semi-dark environment

Withstand all weather conditions

Bus digital signage is one of the most powerful advertising tools in the transportation field. For more than 20 years, Yaxunda Digital Signage has been leading the development of revolutionary digital signage technology. Our company's goal is to provide tailor-made digital signage applications that meet customer requirements, while providing lifetime support.
Whether you are looking for an LCD monitor that can operate in a sunlit (all outdoor) or sun-protected (semi-outdoor) area, we can provide you with a solution. If you want something special, don't worry, we can build it for you. Our all-weather digital outdoor signage can be well used for public interactive urban multimedia screens or highly visible advertising displays.