Why you need a professional advertising use digital signage more than a home TV?
Published:2022-04-21
Views:752
As we know that digital signage and menu boards are believing to contribute to increased sales. According to the Study, about 20 percent of brands deployed digital menu boards.
The fact is digital signage makes it easy to display information, it can show promotions and digital menu. Users can schedule simplifies display everyday advertisings to reduces costs which pay for employees to set up various menu boards.
Why a professional digital signage better than a home TV, in commercial environment?
1.      Commercial digital signage displays last longer than home TVs. Designed to run up to 24 hours a day, 7 days a week, these displays have more stronger protections that make them running well in high-traffic environments.
2.      Commercial displays are generally brighter and more eye-catching (some 2-10times as brighter than home TVs). Shops and restaurants are often well lit, a brighter digital signage to provide the better legibility and clarity.
3.      Generally, home TVs warranties last only one year and may even be shorter if the TV is used in a commercial environment. Normally, home TVs are not designed to                operate 18 to 24 hours a day. Which unlike most commercial displays, which are capable of operating for 24 hours a day and are designed to work in harsh environments. Commercial            digital signage with 24-hour service through which the display provider ensures the troublesome display is fixed or replaced within one day.
4.      Many of the commercial digital signage use the vertical screen playback mode, which is more in line with our daily viewing habits. At the same time, the vertical screen playback can shrink the viewer's line of sight and focus on the information that needs to be displayed. This capability is nearly exclusive to commercial displays, as very few consumer TVs offer a portrait mode. Commercial displays also generally have more source input options than consumer models and are designed to integrate with remote monitoring, automation or content management systems.
5.      While most commercial digital signage displays are designed to run on Android networks, which can reduce operating costs while simplifying installation and maintenance. With the ability to network displays together, operators can use a variety of software and services to monitor and even control virtually unlimited digital signage displays and menu boards across unlimited locations, from anywhere an internet connection is available.
Asianda ultra-bright (3000nits) digital signage so that customers can see images and text in direct sunlight. What's more, brighter displays make food more captivating and show off the restaurant's content better. Studies have shown that using videos and animations alongside digital images can boost food and beverage sales by more than 15 percent.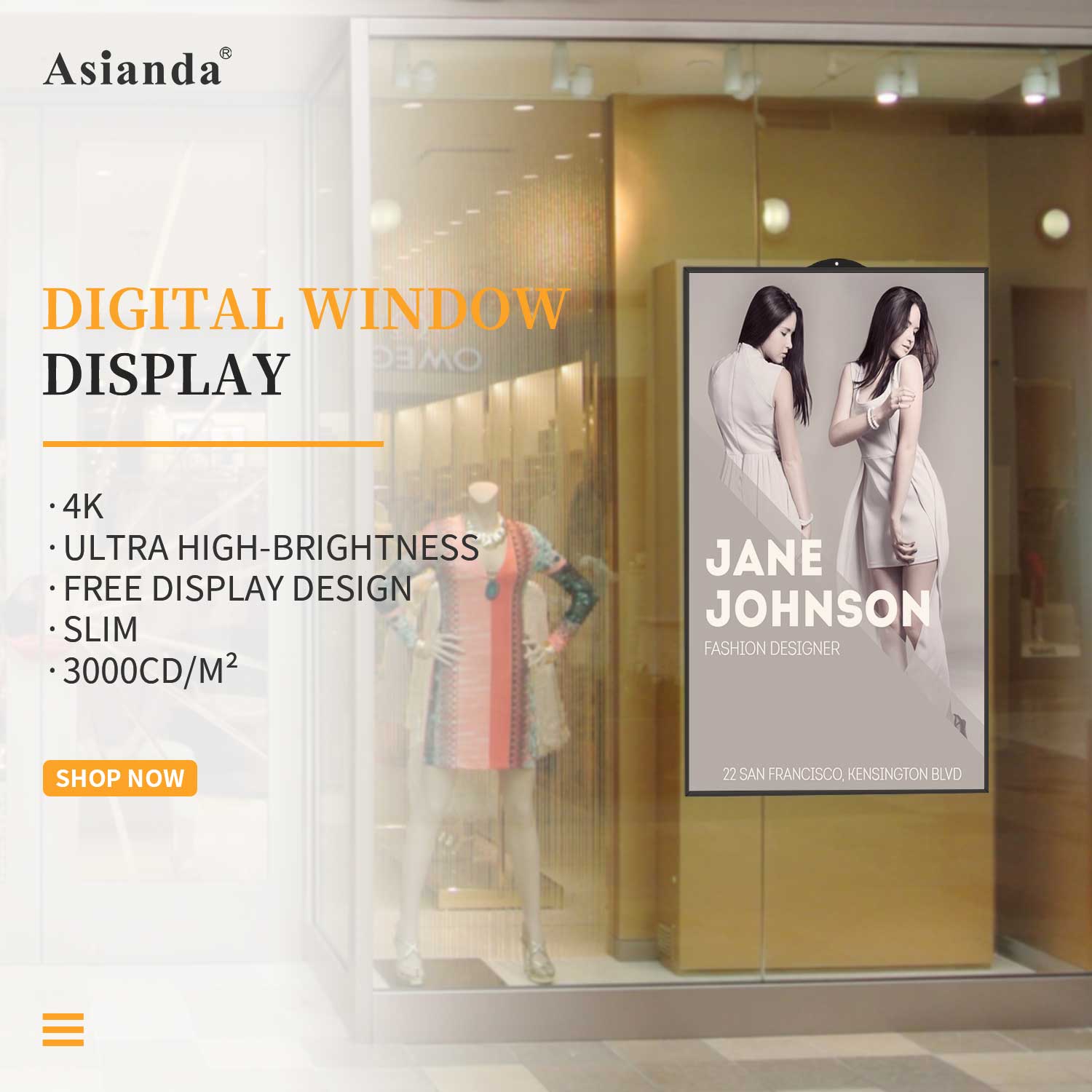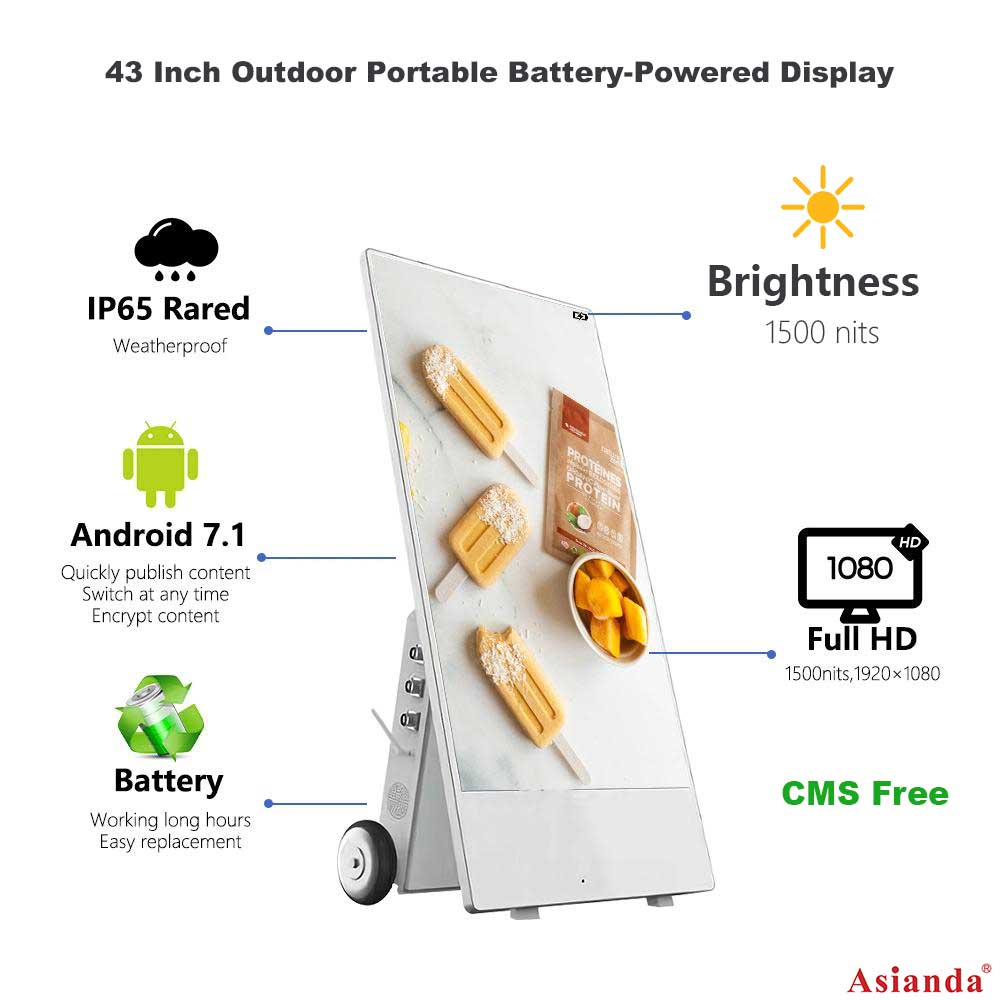 Our Content management software support users to make real-time changes, such as adjusting pricing, labeling an item as sold out or promoting limited-time offers.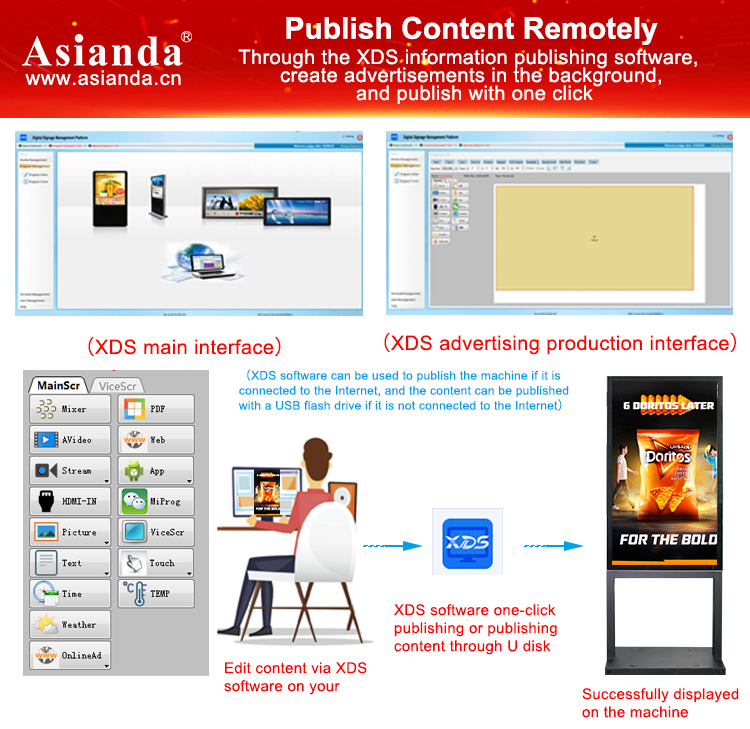 More information, please contact us. : )