What is the Best Solution for Outdoor Digital Signage
Published:2022-05-06
Views:635
The outdoor signs are rapidly turning into digital signage from traditional billboards and painted signage,But an unsuitable digital signage will not be better than a good traditional signs. So what does it take to create a good outdoor digital signage? and what is the best solution?
At first, you should have the ideas on its intended use and its installation environment, also know that an outdoor digital signage meeting your requirements means that you are choosing an outdoor digital signage with high-quality and with an user-friendly software. 
What Does it Take to Create Outdoor Digital Signage?
Creating an outdoor digital display is not simply installing a LCD TV screen on an outdoor wall or outdoor ground. There is high requirements on outdoor screen from the outdoor environment, and digital signage itself needs a particular software to create, release, control and manage content.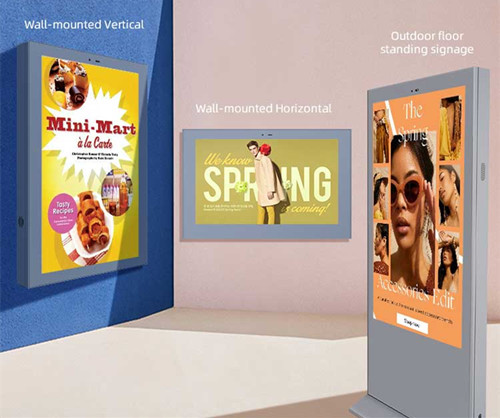 Why Choose Asianda Outdoor Digital Signage?
Direct Sunlight Readable & With Light Ambient Sensor
Thanks to the commercial grade 2500nits or 3000nits LCD panels, Asianda outdoor wall mount digital displays and outdoor floor standing digital signages are up to 10 times brighter than a normal TV and can deliver clear and brilliant picture and video quality under direct sunlight.
Featured with built-in light ambient sensor, the displays adjust the brightness based on the amount of light from thr environment, which allows to save as much energy as possible while making sure that the screens are always readable.
Vandal Proof
With 1.5mm galvanized steel sheet enclosure and 6mm protective full front glass design, Asianda IK10 certificated outdoor displays are outstanding applied in public spaces. 
Weatherproof
Designed with IP65 rating enclosure, Asianda outdoor digital displays are perfect operating in outdoor environment, and protected against all weather, such as sunny, rainy, snowy days.
Advanced Temperature Control
To maximize the lifetime of the outdoor digital displays, its internal airflow system ensures that the screen and its inside components are running at the suitable temperature whatever is the environment temperature.
Various Network Upgrade via Content Management Software
All Asianda digital displays are integrated with XDS content management software, you can create, control and manage the display content of outdoor signage via Wi-Fi, LAN or 4G.
The best solution for outdoor digital signage is the one that runs outdoors, fits your application and meet your budget. Welcome to contact Asianda team for the best solution for your projects.