Why High Brightness Digital Window Displays Are Important To Retail Stores
Published:2021-06-23
Views:876
One of the ways for retailers to invite customers to physical stores is through digital identification. You can use dual sided digital window display signage in your retail store, you can display digital advertisements, videos, or any information you want to deliver to customers.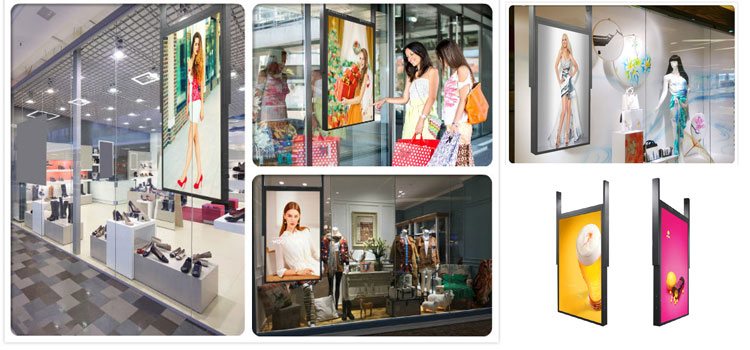 Digital window display screens opens up countless new options for your store, and it can bring a truly different experience to customers. In fact, 68% of customers said that digital signage would let them be more willing to buy advertising products. We surveyed 120 retailers that use digital store displays in their stores and found that 80% of them had a 33% increase in sales (compared to the use of printed signs).
Beautiful storefront with high-brightness window display digital signage: Attract your potential customers to walk through your window display.
The sun-readable LCD is the most important digital signage for successful storefronts. Because the store is in a semi-outdoor environment, there is a lot of sunlight. High-brightness 2500nits LCD screen display, which can be installed in bright places, even under direct sunlight. It is the best tool for retail stores to influence visitors to walk and become customers. In addition, digital signage window display allows you to instantly your content based on changes in seasons, demographics, and promotion time.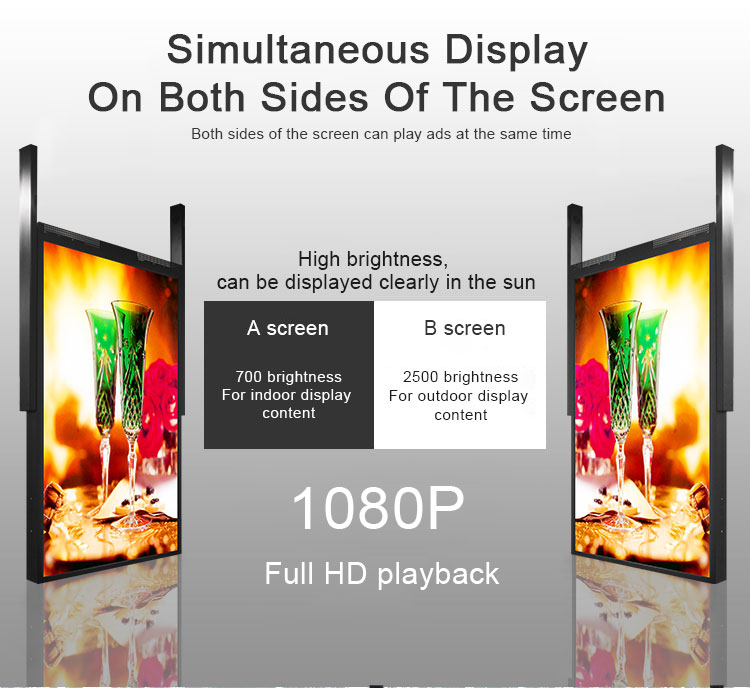 How to make full use of high brightness digital window displays in retail stores:
1. Attract window shoppers and increase passenger flow
Before the customer walks into your door, give the best first impression. The high-brightness digital signage window displays allows you to display your products on a crystal-clear, high-definition LCD. Customers respond best to visual stimuli from videos and pictures. Using the sun-readable LCD on the storefront, you can let customers know about your products when they are outside the store. Finally, it will make visitors become your customers.
In addition, by using a high-brightness display with interactive touch screen technology, it is more attractive to customers. The touch screen film allows you to stick it on the inner glass, and there is a 700nits high-brightness LCD on the back. Allow shop owners to display their products in an interactive way.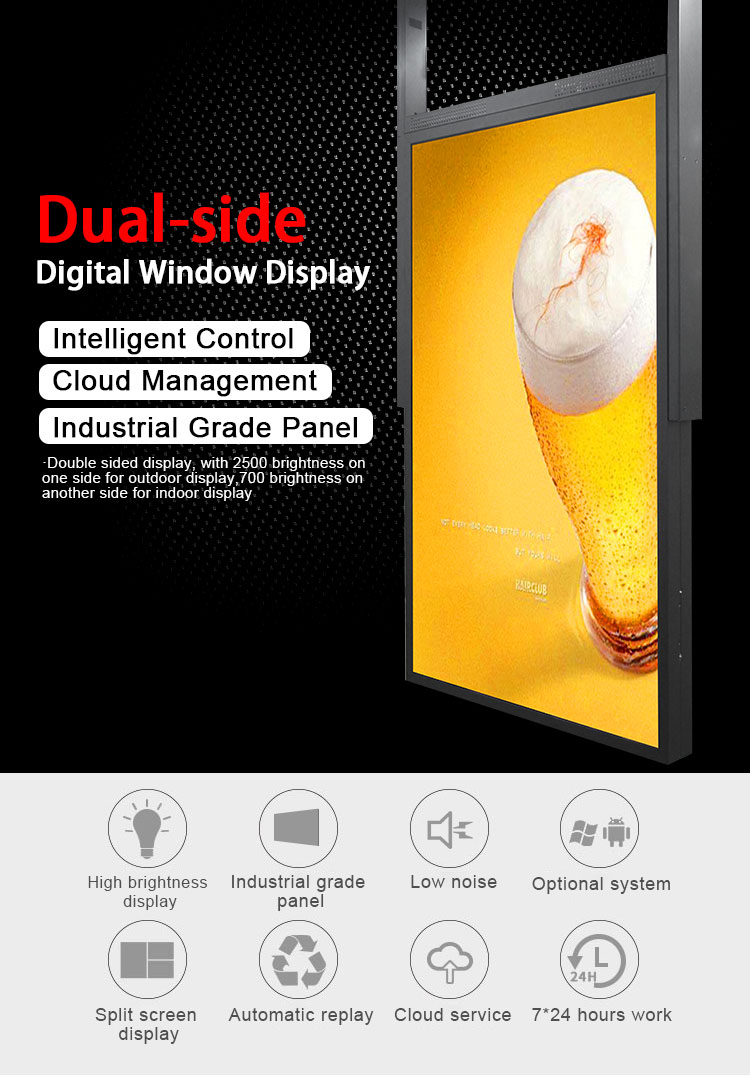 2. Tell the brand story of retail stores
With printed signs, you will be limited by space. Even if you put up the entire store with signs, you still only have so much space. The digital sign eliminates these restrictions. This means you can do more with the store's logo. It's not just about labeling different displays. You can tell your brand story better.
Today, the most successful retailer is more than just a store. Your brand story attracts customers and makes them repeat customers. Digital window signage liberates the square kilometer visual way and delivers your brand story to shoppers.
Pop-up shop-in-shop is another case of digital window signage screen. When your area is very limited (because you are in someone else retail space). They can help your product attract the attention of customers and display it with simple and easy information.
3. Share promotional product information
Your employees can answer customer questions about any product in the store. But isn't the time they spend encouraging sales better than answering questions?
The same question-about product features and benefits repeated over and over again?
(The advantage of digital hanging window display is that it can simplify everyone's time, give customers an additional channel to understand the product, and promote sales staff to better focus on serving customers.)
With digital shop window displays, you have the opportunity to display more product information for customer reference. You can also attract customers through interactive displays and let them get the information they want, thereby freeing up floor staff and allowing them to use their time more efficiently. You can even provide strong product comparisons, making it easier for customers to make purchasing decisions.
Speaking of production time, digital hanging window display allows you to boost sales by increasing sales and cross-selling without having to double your staff. You can program the digital display to provide suggestions and promote additional items. Even if you only have two sales assistants, you will get double sales.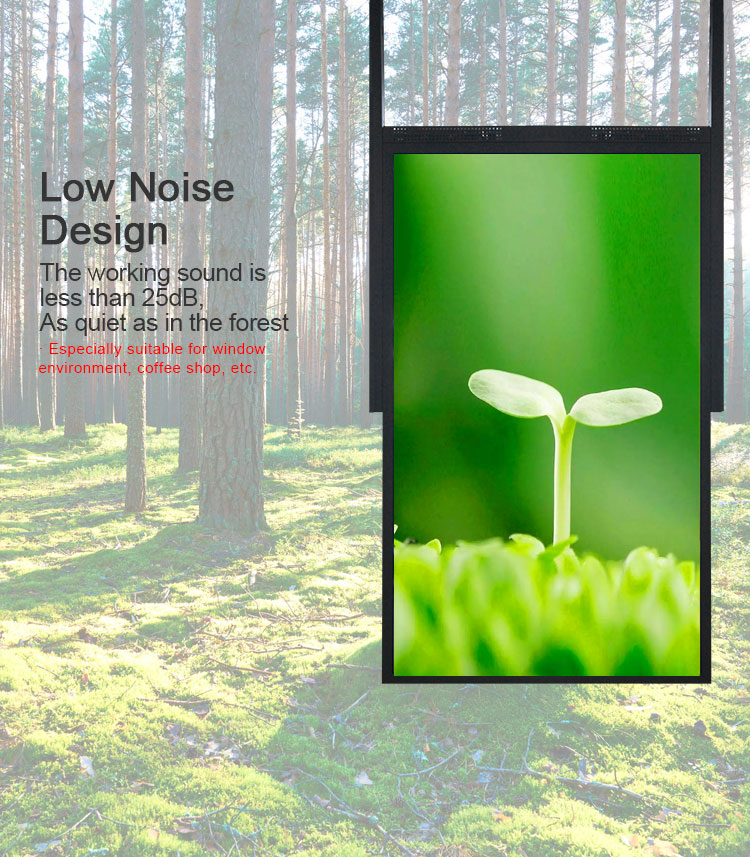 High brightness digital window display application:
Potential retail store windows displaying digital signage can benefit shop owners and attract thousands of visitors to become your customers

Bank/finance

,

restaurant digital menu board

,

 

real estate touch screen display

,

downtown retail store

,

supermarket

,

electronics and entertainment bookstore pharmacy

c

lothing/

c

lothing Store

,

Health and Beauty

,

Restaurant

,

Sporting

,

Goods

/

Cafe

/

Furniture

,

Store

 

Grocery

 

Store

,

Convenience Store

,

Cosmetics and beauty stores

,

Jewelry stores

,

Musical instrument stores

,

Department stores

,

Florists

 

Pets and pet supply stores

.
Bringing the highlight window digital signage into your store opens up a whole new world for your products. Serve customers and generally enhance the store experience. This is why the number of digital shop window displays installations in high-bright display windows has increased by nearly 40% year-on-year. The retail industry leads the entire industry with 25% of sales. No matter how you decide to use them, the high brightness digital window display will have a big impact on your store and your customers, and it is worth the investment.