How do I Choose the Right Shop Digital Window Display Screens
Published:2021-06-22
Views:733
A distinctive and creative advertisement will attract more business to the door. The outdoor advertising display screen with the bright LCD window will make your advertisement unique, and make your advertisement higher than the counterparts, thus attracting more Customers, this is the wish of every business. Today, I will talk about how to choose the highlight digital signage window display.
You have to think about impact. A great rule of thumb for choosing a digital signage display and its location in your building is to be sure to place it in high-traffic areas where the highest amount of people will be able to see it clearly.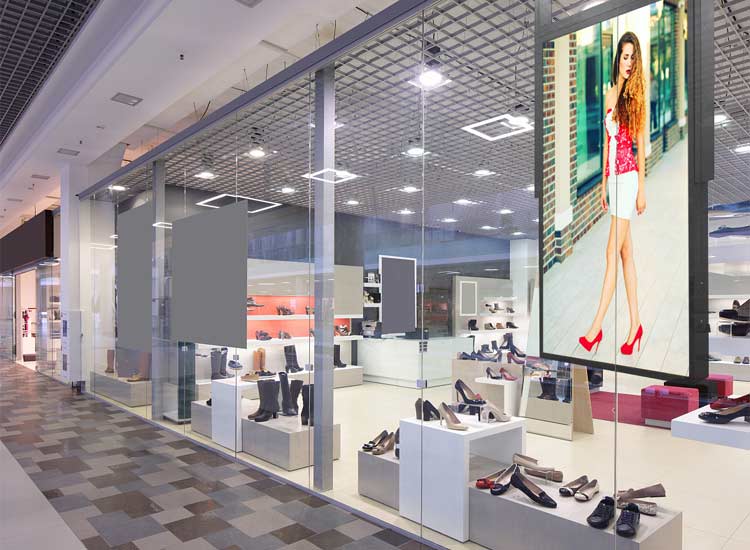 1. size

The most obvious consideration for windows digital signage is the size of the screen. In shop windows, large-size LCD screens are essential to attract people's attention. Consider that the minimum size of a small store is 42 inches, or preferably a maximum of 65 inches for maximum impact. Of course, the size also depends on what else you plan to display in the shop window. If there is only an LCD screen in the window, you can even install multiple LCD monitors so that you can fill the window with bright color monitors.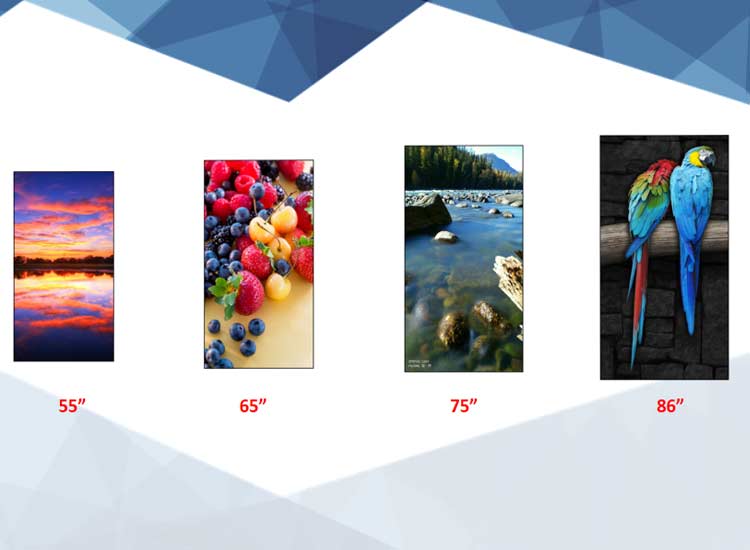 2. brightness

The brightness of the LCD display in the shop window will depend on the location of your shop.

If the window faces outdoors, the LCD monitor must be a high-brightness model (1000 nits) that is readable in sunlight, so that the displayed image can be highlighted even in direct sunlight. Most common commercial storefront window digital displays do not provide this function. You also need to consider how the LCD display looks at night. If the screen remains fully lit at night, it will be too dazzling for people to watch comfortably in the dark. The solution is the "auto-dimming" function, where the screen includes a light sensor and automatically dims when the ambient light is insufficient. Therefore, for outdoor-facing shop windows, LCD displays require high brightness and automatic dimming that are readable in the sun.

On the other hand, if the storefront window digital displays is completely indoors, such as in a large shopping mall, there is usually no need to buy a sunlight-readable LCD monitor. However, you still need a screen to project bright images, so the best choice is usually an LED-backlit model with a brightness higher than the average brightness (for example, 450 nits).
3. Built-in media player

Most shop digital window display screens will be used to play repetitive loops of content, whether it's video, slideshows, moving graphics, or static images and text. This content needs to be generated by some kind of media player or PC. The easiest way is to buy a monitor with a built-in media player board. Then you can load your media via a USB memory stick and run it.

Or, if you want to use a PC or Mac to transfer content to the display, just buy an LCD display with HDMI input and connect it to your PC or Mac with an extended HDMI cable (or wireless HDMI extender).
4.  The reliability of LCD windows digital signage in shop windows

Window windows digital signage usually operate 24 hours a day, 7 days a week. Therefore, you need to ensure that LCD displays are designed for full-time operation and have maximum reliability. This can be achieved by choosing a display using industrial-grade components.

Another consideration is that LCD monitors in shop windows are exposed to direct sunlight and may be affected by high temperatures. This is especially a problem when the display is a high-brightness model-in addition to the heat radiated by the sun, some high-brightness panels also generate additional heat. Therefore, please ensure that the windows digital signage you choose has a temperature rating of at least 50 degrees Celsius, and use LED backlight technology to minimize heat generation.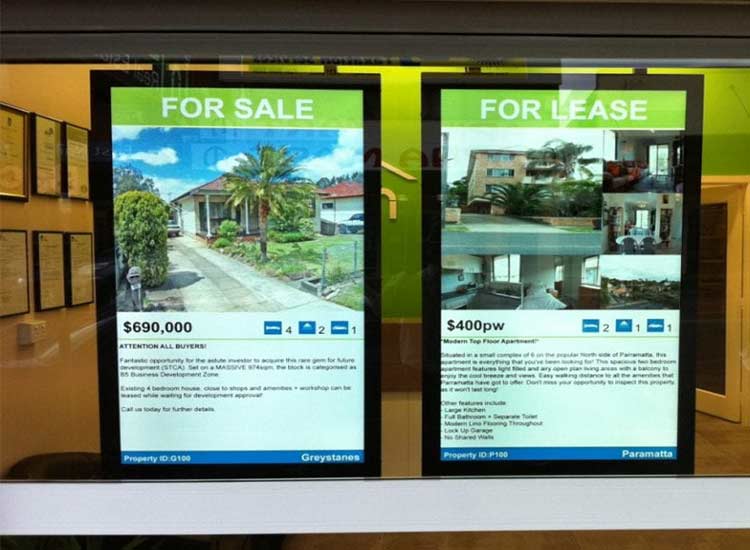 Why Choose Windows Digital Signage
The solutions by storefront window digital displays offer excellent benefits for your store
The solutions by Digital Window Display offer excellent benefits for your store

Ordinary windows can be transformed into HD window displays

Adhesive film is easy to install on acrylic surfaces or glass, and provides a wide viewing angle of 150 degrees

Waterproof and durable, you can convert almost any surface into an interactive screen



With over 10 years in the displays industry, our wide knowledge of windows digital signage, Asianda solutions and video walls gives us the solid understanding of today's ever changing digital market.  Why not speak to us today about your ideas for  digital shop window display.