What is a video wall? Ultimate Guide
Published:2023-11-08
Views:76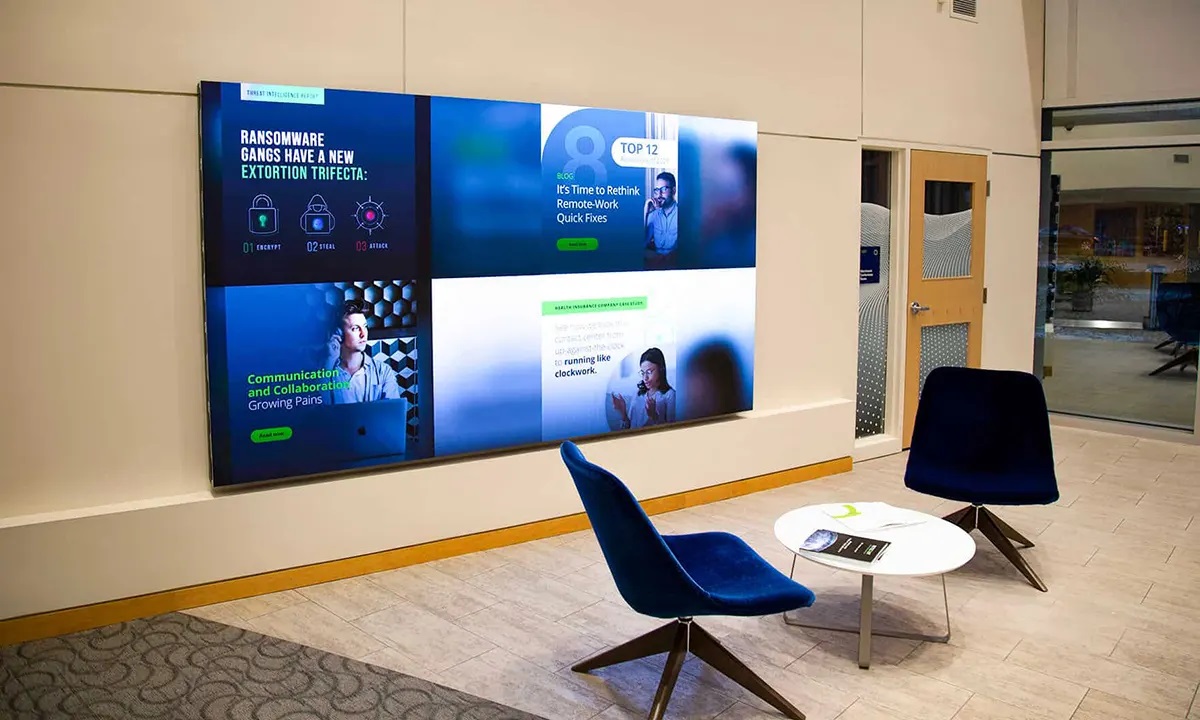 What is a video wall? basic definition
A video wall is a special multi-monitor setup consisting of multiple computer monitors, video projectors, or televisions that are tiled continuously or overlapping to form one large screen. In today's connected world, video wall technology has had a major impact on all companies, regardless of industry. It is the ideal tool for conveying information used in a variety of environments, from corporate work spaces to lobby signage, public spaces, classrooms, auditoriums and mission-critical control rooms.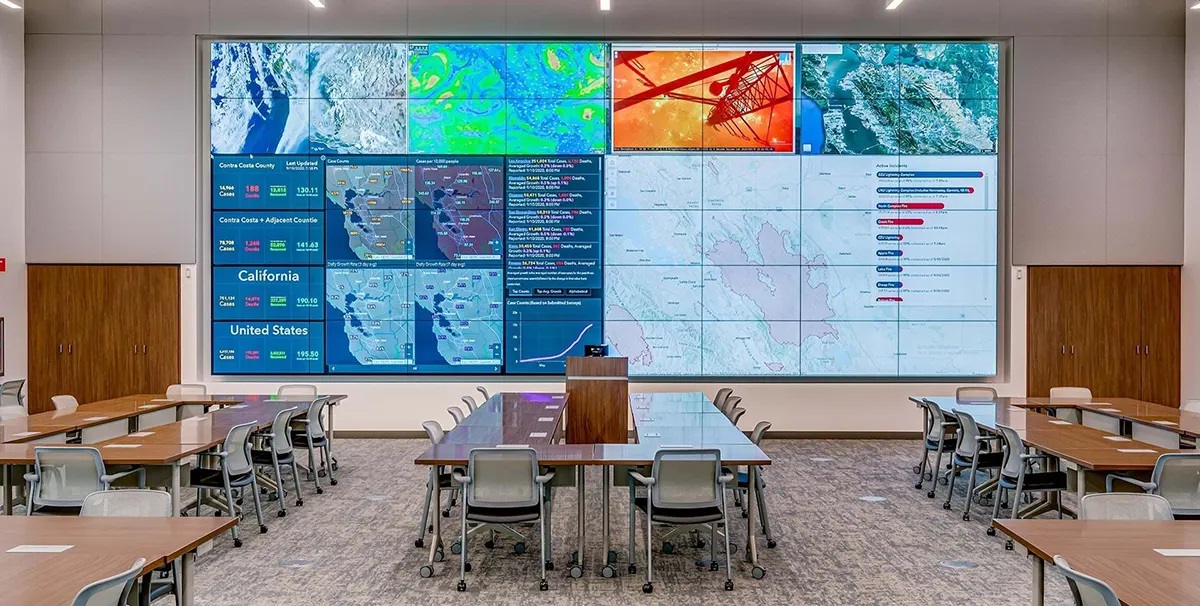 Video wall display technology and how it works?
Technical aspects:
Typical display technologies include LCD panels, Direct arrays, hybrid projection screens, laser fluorescent displays and rear projection cubes. Jumbotron technology has also been used before. Diamond Vision is historically similar to Jumbotron in that they both use cathode ray tube (CRT) technology, but there are slight differences between the two. Early Diamond Vision displays used separate flood-gun CRTs, one for each subpixel. Later Diamond Vision displays and all Jumbotrons used field-replaceable modules, each module containing multiple floodgun CRTs, one for each subpixel, with a common connection shared between all CRTs in the module; the Modules connect via a single weather-sealed connector.
How the video wall works:
If you use a video wall, you will need a processing and control system that can communicate with the displays. With a video wall processor, every video source you use is routed to the appropriate screen at the appropriate resolution. The more complex your displays, the more complex your video wall processor and control system will be. The most basic function of a video wall processor is to stream video from a single source to a single screen (there will only be a different image on each screen). The next step is the ability to distribute images across multiple screens and, in some cases, merge video from other sources.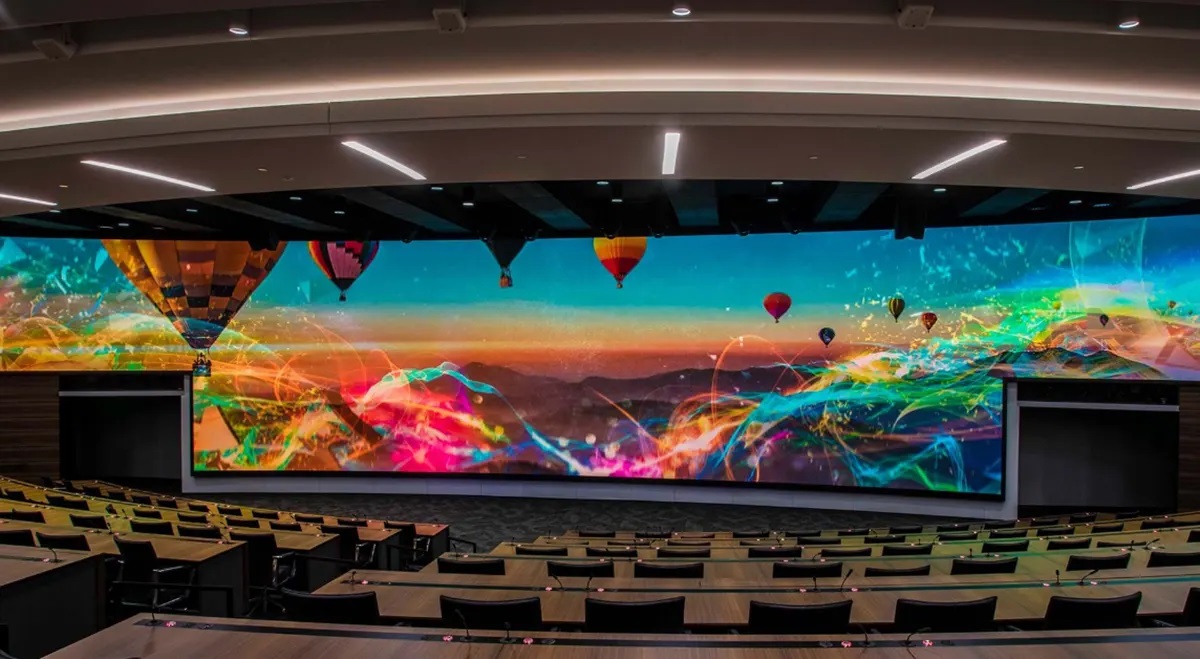 What industries can video walls be used in?
Hospitality: You can find uses for stunning video wall displays in sports bars, restaurants, hotel lobbies, casinos, houses of worship, and more, subtly enhancing the look of a room.
Education and Conferences: Both conference hosting companies and educational institutions can greatly benefit from the use of video walls. They can support high-resolution presentations and graphics. Additionally, video walls can be removable, making them simple to install and remove in outdoor or multi-use spaces.
Retail and shopping malls: Video walls are useful in a variety of situations, whether you want a high-resolution display inside a store or a large color display on a storefront. They are particularly suitable for switching between a large number of small images and a large number of large images on the same display grid.
Security: Video walls can be used for a variety of inputs, including security footage from airports and major commercial buildings. Depending on your requirements, you can change the input so that multiple views can be examined simultaneously, or the image can be enlarged on multiple monitors if you need a close-up.
Industry, transportation, military, etc.: video walls can be used in these scenarios. Users can share important information across multiple screens so teams can collaborate easily and see the big picture instantly.
Benefits of Video Walls
Suitable for a variety of industries: Video walls, especially video walls, have historically been used for advertising and events in the retail industry. The costs are quite high, and content management is still in its infancy. Video walls are now more affordable for small and medium-sized organizations. Businesses, schools, government buildings, hospitals, hotels, casinos and places of worship are installing them. Due to their wide variety, they are used in a wide variety of businesses.
Display different content simultaneously: A video wall powered by content management software can display multiple content simultaneously. For example, campuses can use video screens to provide directions, a schedule of school events, and other useful data such as weather, news, and social media.
Generate interest: Video walls can attract attention because of their size. Customers, employees and visitors find them hard to ignore, making them the perfect tool for branding or educational campaigns.
Installation options available for content customization: LED video walls offer a variety of design versatility. For example, they can be bent to fit around pillars and corners. They can also be formed in architectural ways other than standard rectangular or square installations.
Increase revenue and improve customer satisfaction: Digital signage can increase retail store sales by 32%. Retailers can inform thousands of target customers about discounts and other great deals through video display systems. Unpredictable wait times can upset customers, but expected wait time signs can help. Top service providers have adopted this tactic to keep customers patient.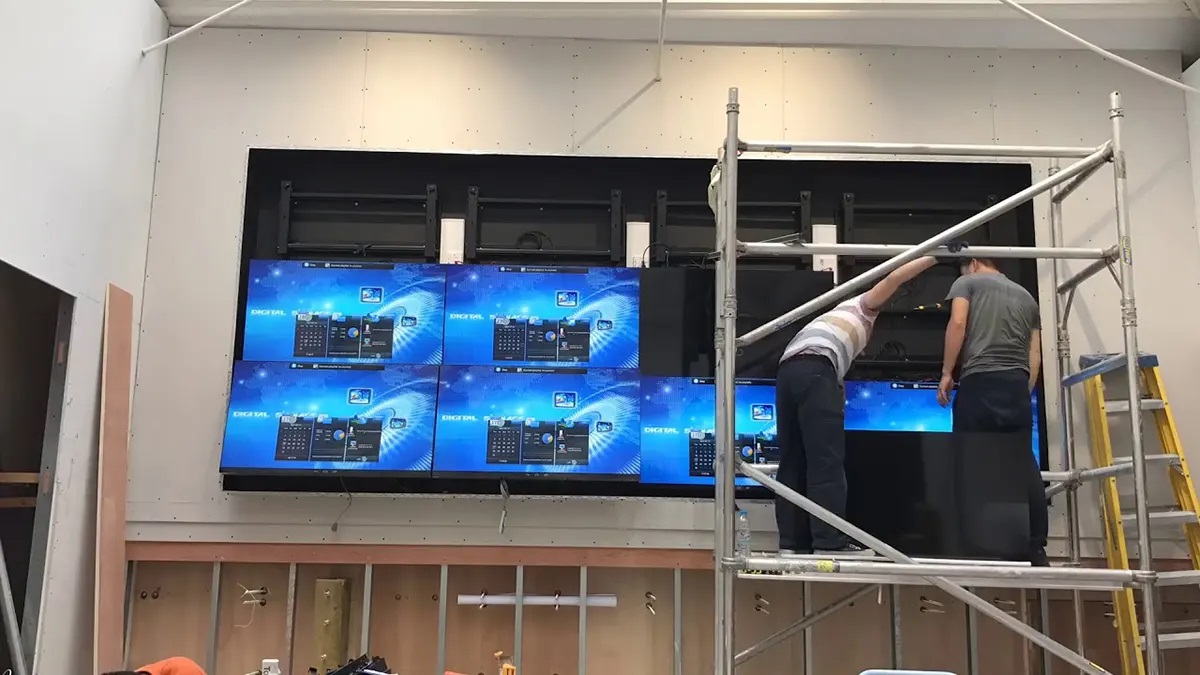 Video Wall Installation: How to Make a Video Wall
1. Clarify demand goals:
What is the purpose of the video wall, and where do you plan to display the content: is it near WiFi, network cables, power outlets, fountains?
Size: A size that achieves what you want to achieve
Layout: For example, in a TV video wall project, do you want a 3×2 or 2×3 video wall layout?
Display Size: People only consider the screen size but ignore the display size. Measure borders and width
Clearance: space frame, support structure, wall behind display and support structure
Distance: to power source, internet connection, monitor
Headroom: for media player, internet or WiFi adapter
Weight: Consider support structure, cables, video wall controllers
2. Selection screen:
The most important digital signage hardware element is the video wall panel. If they are used for digital signage, you will need a high-quality video wall display, such as an LG or Samsung video wall. Of course, we purchase the screen based on our actual budget.
When choosing a video wall TV, remember that TVs with narrow bezels for video walls look best. They create the illusion of a seamless video wall, especially if you opt for a multi-panel setup. Another thing to consider is that LCDs are better for viewing up close, while LEDs are better for viewing from a distance.
3. Select a media player:
A desktop computer with multiple display ports is better suited as your video wall processor. Alternatively, you can use a video matrix player or video wall controller. They are devices that allow streaming a single video source to multiple screens.
4. For installation and construction, you can choose a local installation service, because you will encounter many troublesome problems during the installation process. It is recommended to choose a team with professional installation experience to cooperate with the product seller to complete the installation process together.
5. Post your content:
Once your digital signage video wall is up and running, you'll need to create custom display content. Before that happens, you need to develop your digital signage content through research, content creation, and distribution.
Recommended video wall solutions
As a professional video wall manufacturer with 13 years of experience in the industry, we can provide users with a complete set of solutions. You just need to tell us your ideas and we will immediately provide you with a tailor-made solution. If you have any questions, please contact us and our experts will answer your questions online.