What is a portable screen?
Published:2023-11-08
Views:140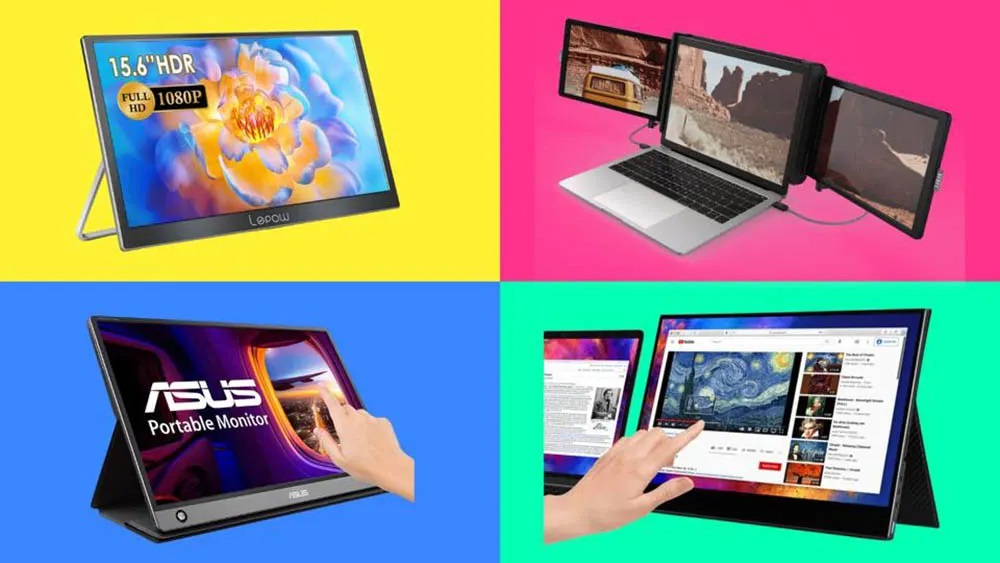 What is a portable monitor? -Overview
Portable monitors are thin, lightweight monitors that connect to a computer as a portable dual-monitor solution. Designed to be lightweight and easy to deploy, they can be taken anywhere and are extremely useful devices for increasing productivity. In the past, computers required a monitor to work, but with the advent of portable devices, monitors are becoming less and less necessary. Portable monitors are a better alternative to devices like laptops and smartphones, especially when you need to work on a computer that isn't yours. This is the main advantage of these new monitors, they are lighter and smaller than desktop monitors.
Advantages of portable monitors
Expand your screen:
Portable monitors are also known as external monitors, extended monitors, laptop monitors, and portable LCD screens. The reason they are called portable is that most of them are smaller than the average desktop monitor. This is why people consider portable screens. They may be small in size, but they have many advantages that make them a great choice for your computer.
Zoom in on your mobile screen:
With a portable display, you don't have to worry about being unable to see the small text on your mobile phone screen. When connected it will magnify your screen very well, and the highest possible screen resolution will bring extra comfort.
Enhance your entertainment experience anytime, anywhere:
With higher screen resolution on a portable display, you can connect to your phone and rewatch the episodes you've been watching on the go. Or if you have a portable gaming console like a Nintendo Switch or Switch Lite, you can also use a USB-C connection to enhance your gaming experience.
Extended professional device screen:
While we are on the subject of increasing screen size. Purchasing a portable monitor also doubles your ability to work on a professional screen.
From Nintendo to Mac or tablet. If you have the right adapters or connections, you have more than enough to spread your experience across two screens.
If you're considering connecting your Mac or laptop to a portable monitor, you should make sure it's set up correctly to allow for seamless movement between the two screens. You will be able to manage these settings in the Display area.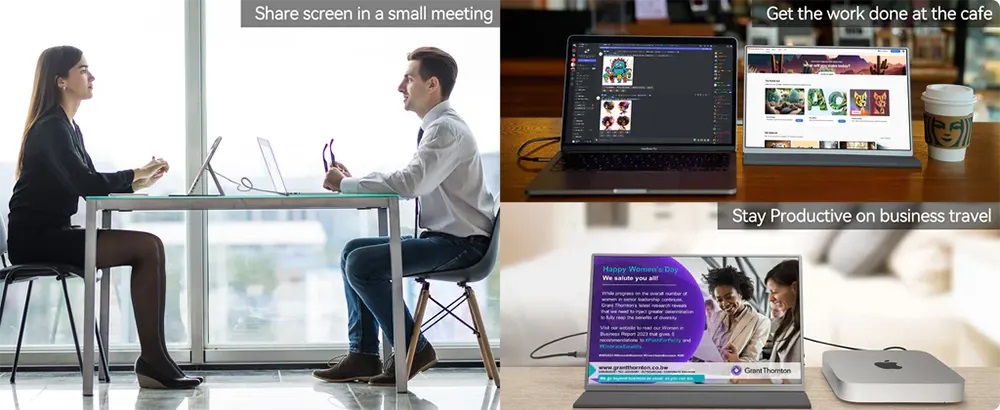 Who are portable monitors best for?
Such a large number of applications means many benefits to many people. However, there are a few who are able to take full advantage of this additional technology:
game player
designer
Developer
digital nomad
Blogger
traveler
Gamers using portable monitors
Whether you enjoy playing PC or console games, a portable monitor can further enhance your fun. From improving immersion in open-world epic action-adventure games to providing greater scope for first-person shooters. A portable screen can take your gaming experience to the next level.
Why do designers need portable monitors?
Portable monitors are ideal for mastering complex apparel designs or marketing assets. In addition to the ability to preview designs using a larger screen. Touchscreen monitors also offer the added benefit of being able to edit or add designs in real time on the screen.
Do portable monitors help developers?
The dual-screen feature also helps web developers handle complex coding tasks. The extended interface makes it easier to display changes and run multiple applications.
Digital nomads using portable monitors
The screen easily slips into a laptop bag or backpack, making it perfect for those who make a living on the road. Recent surveys show that by 2021, there will be 35 million digital nomads worldwide. The growing population of mobile workers requires a mobility solution. Additionally, the ability to run multiple applications lends itself to publishing content on various social platforms and forums.
How can a blogger or traveler use more screens?
Likewise, professional bloggers are always ready for a spark of inspiration. Having another screen to display your dataset on one screen and your content management system on another simplifies the content creation process. Meanwhile, travelers who spend hours on planes, trains, cars or buses can choose to pass the time watching movies on larger displays. Turn this flight into a long-distance movie experience.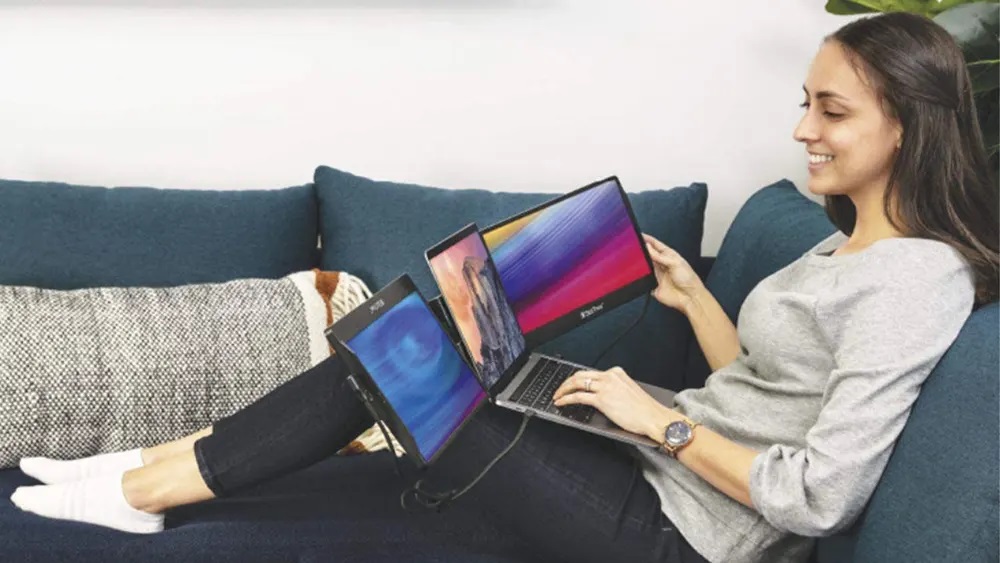 Are portable monitors worth it?
A portable monitor is a versatile piece of technology that's definitely worth buying. Whether you want to increase productivity, enhance your entertainment experience, or streamline your creative workflow, ASUS portable monitors fit easily into your daily life.
Many people find portable monitors ideal for situations where space is limited. A desk that is a little too small for a full-size desktop monitor may have room for a portable monitor. When you travel, the portable monitor easily slips into your backpack - perfect for entertainment in any situation. Are you or your child participating in an online education program? Whether you're working from your living room couch, backyard patio, or bedroom, a portable monitor can simplify the learning process.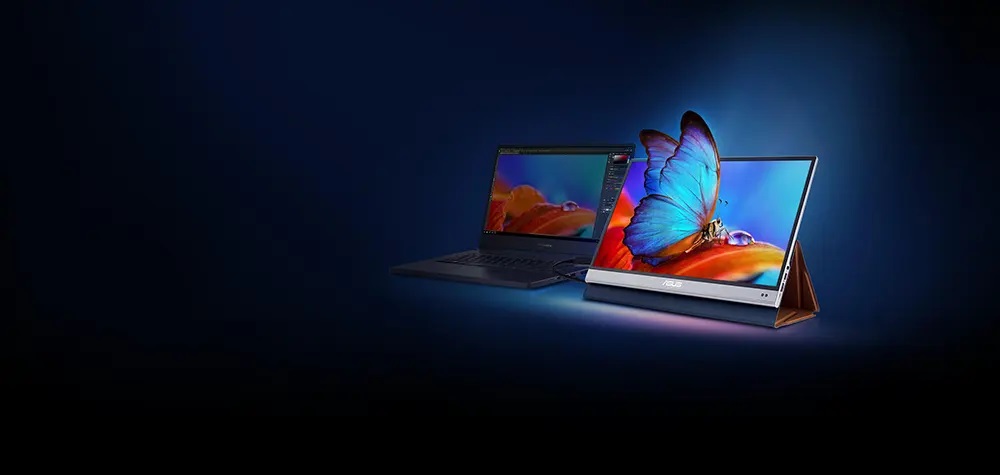 What should I know before buying a portable monitor?
There are many factors involved in a great display. To help you cut through the noise and choose a durable, high-quality portable device from the many options available, let's talk about the specs, certifications, and design elements you should keep in mind when shopping for a portable monitor.
display type
Not all display panels are created equal. Without getting too technical, you can choose between many different panel technologies when buying a monitor: twisted nematic (TN), in-plane switching (IPS), vertical alignment (VA), and organic light-emitting diode (OLED). , to name just a few.
Which display type is best for you? If you're a power user, you may already have a preference, but for most people, we recommend the IPS or OLED models. Both types have excellent viewing angles, which is important if you're using a portable monitor as a second screen: you want the image to be clear and bright, even when you're viewing it from an angle. The OLED panel delivers a premium viewing experience with its excellent contrast ratio, vibrant colors and surprisingly low motion blur.
Even if budget is your main concern, we recommend against going for a portable monitor with a TN panel. This monitor type is very affordable, but the cheaper price may come at the cost of narrower viewing angles and duller colors. IPS monitors are not that much more expensive and offer far more features.
resolution
A monitor's resolution tells you how many pixels it has in each dimension (horizontally and vertically). Monitors with 1920×1080 or Full HD resolution are pretty standard these days - we wouldn't recommend a lower resolution monitor, and in many cases we'd recommend aiming for a higher resolution. QHD and 4K displays offer superior pixel density, which means more readable text and more realistic images.
Screen size and aspect ratio
Just like any other type of monitor, portable monitors come in many different sizes and shapes. If you plan to use your portable monitor primarily with your laptop, you may like the symmetry of the portable monitor being the same size as your laptop display. But there's also value in scaling—especially in the vertical dimension. Perfect for professional work, this portable monitor with an ultra-tall 16:10 aspect ratio lets you see more at a glance without scrolling.
Refresh rate and response time
A monitor's refresh rate tells you how many times per second the image on the screen can be refreshed. Moving images are smoother on monitors with faster refresh rates. We recommend a 120Hz or 144Hz display for most users. It makes for a better experience from browsing your social media feeds to watching fast-paced videos, and many people report that higher refresh rate displays reduce eye strain.
User-friendly, ergonomic design
When you're shopping for a portable monitor, there's one thing you should consider first: user-friendly design. Cheaper models from off-brand competitors are notorious for offering limited setup and options for using portable monitors.
Durability and build quality
When you buy a portable monitor, you want one that can last for a long time. Portable monitors require sturdy construction that can withstand the bumps and bumps they take every day while being transported in a backpack or laptop bag. A cheap plastic chassis won't solve this problem. ZenScreen monitors are built with high-quality materials and a sleek, slim design that's built to last. We install Class-A panels into ZenScreens, so you can be confident that you'll get a great experience with your portable monitor for years to come.
Security and Authentication
Many portable display options lack basic certification from a trusted third party. As a buyer, you're left to read a company's own deions and reviews left by users and make an intuitive decision about whether they are trustworthy.