What are the Features of Outdoor Digital Signage
Published:2022-06-30
Views:870
Outdoor LCD advertising digital signage is a multimedia device that were developed to meet the demand of outdoor advertising market. It gradually replaces some applications of traditional signs and light boxes advertising. Outdoor LCD displays are especially suitable for shopping malls, commercial streets, subway stations, bus shelters, governments, enterprises, schools, parks, etc...

There are two major design of outdoor digital signage, one is floor standing structure, another is wall mounting structure. People choose the different designs based on their actual applications. So what are the features of outdoor LCD digital signage? and how they can work perfectly on outdoor environment?
1. With IP65 rated enclosure with IK10 rated protective glass, making the outdoor digital signage be waterproof, weatherproof and vandalism-proof; 
2. 2500nits / 3000nits brightness with light sensor, the high brightness LCD screens are sunlight readable under direct sunlight. The built-in light sensor is allowed the panels adjust its brightness based on the environment brightness changes, which is much helpful to expand the lifetime of LCD panels and saving the energy;
3. 7*24 hours long-time running LCD panels meet the demand of outdoor advertising;
4. Built-in intelligent temperature control system and perfect heat-dissipation system ensure the outdoor screens operation in -20℃ to 50℃ outdoor environment, without any black screen;
5. Built-in WiFi and 4G optional makes sure that the outdoor digital signages are controllable. People can remotely , release, control and manage the display content of the screen via CMS;
6. CMS with monitoring function optional, people are able to monitor the status of outdoor digital signage via computers, such as inside temperature, screen temperature, fan speeds, door-open, etc...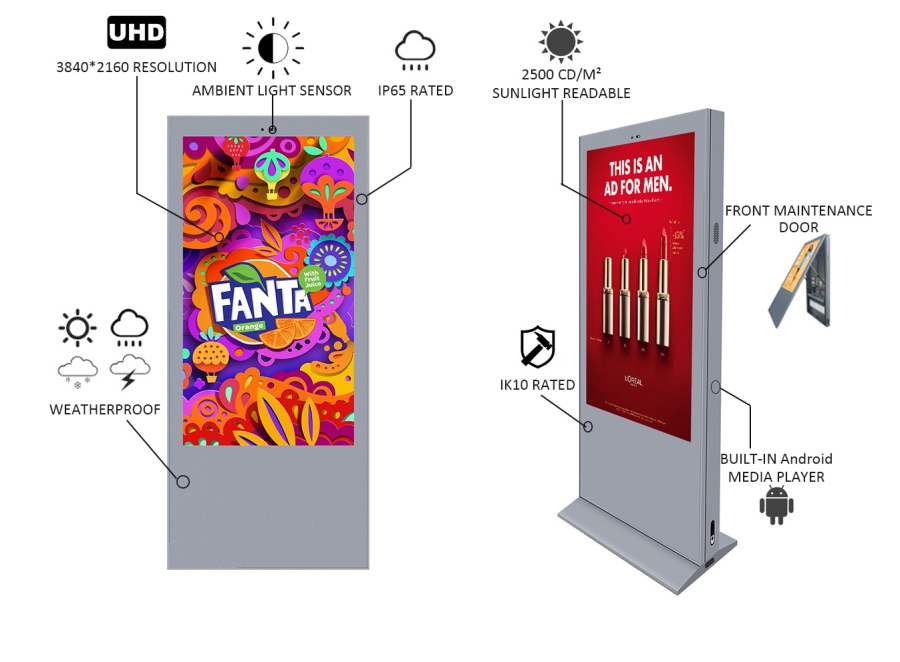 Asianda provides the whole solution about outdoor digital signage. Any interested or more information needed, welcome to contact us.