Portable outdoor digital signage with built in battery powered
Published:2022-06-07
Views:646
Features:
Portable IP65 Rated Weatherproof Enclosure
Built in 14 Hour Running Time battery (if you need more time you can plug it into the mains and run indefinitely)
Full HD resolution
High 1500 cd/m² Brightness LCD with automatic Light Sensor
Wheels for easy transport
Beautiful and fashion Enclosure
Secure Locking Bar
Wire-free connection
Stand out from the crowd with this 43" portable outdoor digital signage solution.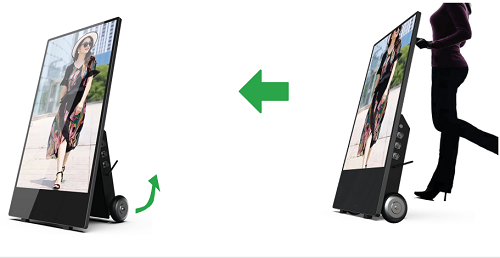 It can be moved quickly to places with high traffic. It's a completely portable outdoor solution and has fixed casters that allow one person to move easily. These wheels can be locked to prevent the screen from moving when in place. For added security, it can be locked in place with a padlock.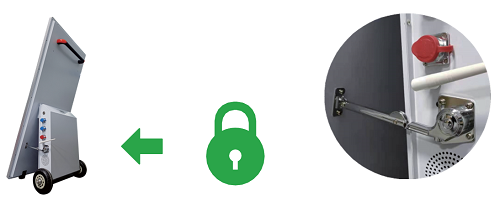 This portable Type A screen is ideal for locations such as hotels, conferences, sports centers, and retail stores that require quick repositioning while changing display content. Featuring a commercial-grade panel with a lifespan of 50,000 hours, the 1500-nit high-brightness display is designed for 24/7 use. The monitor uses a high-brightness LCD panel that is brighter than a home TV, making it ideal for bright public spaces.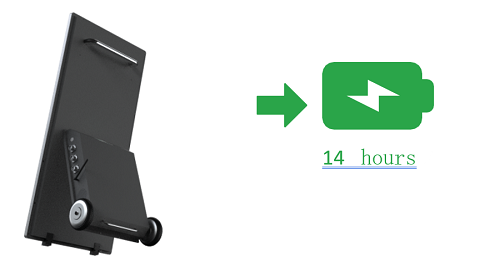 The integrated lithium polymer battery frees your advertising machine from being tethered to a fixed power outlet, giving you approximately 14 hours of free running time. The commercial-grade ultra-thin battery solution used inside ensures the slim design of the whole machine.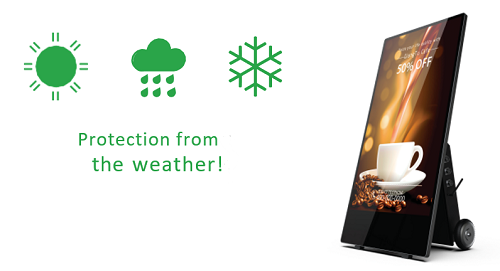 The IP65 waterproof and dustproof design can block dust and other particles in the air, as well as any humid weather conditions, which can not only ensure the long-term operation of the device, but also can be set in a 100% outdoor environment without considering the device being damaged.
The IK10 full tempered glass design on the front can not only protect the LCD screen from damage, but also facilitate cleaning. The industrialized modular design of the whole machine has extremely high durability, and at the same time, it is convenient for after-sales maintenance and reduces maintenance costs.
Equipped with a high-definition Android media player that supports easy updating of playing program information via USB memory stick/WIFI. Import the edited program into the USB memory stick through the software background, then it into the monitor, the monitor will automatically copy and store the files, and the screen will start to play pictures and videos in a continuous loop. Of course, the upgraded version also supports the simultaneous remote of multiple devices through the cloud.
The software is equipped with a timer function that allows you to assign daily or weekly switch times to the screen. The ability to automatically switch on and off means the screen is only used when needed; increasing the efficiency of your environment.