How Do We Select The Best Semi-outdoor Digital Window Display
Published:2021-06-30
Views:604
To make your shop window stand out against others, you need a new and unique idea to attract people's eyes. Diferent from the traditional posters with static images, digital window display brings you a dynamic visual experience. With a high brightness digital hanging window display, it can introduce your shop and your products from all the aspects with dynamic images or short vides. How could we select the best diaital window displav? Asianda Company has some tips for your reference here.
1.Panel
Since the screen is usually facing outside, we need a very high brightness panel to ensure it visible under the high brightness environment. And for the panel itself, to ensure it work longer and more stable, we need to choose industrial level panels for such semi-outdoor digital window display.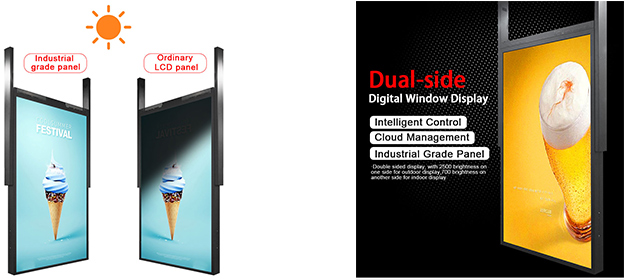 2. Cooling system
As we all know, higher brightness brings us a good visual experience and also brings a high inner temperature of the digital window display at the same time. How could we solve such issues? How could we ensure a comfortable inner temperature for the panels and boards inside the display? A professional fan cooling system is very important and necessary.
3. Brightness adjustment
For day and night, we have a different reguest for the brightness. Different brightness also requires for diferent power consumptions. With a built-in brightness sensor, Asianda's semi outdoor digital window display could adiust the brightness according to the environment briahtness. It help save the power and extend the panel service life.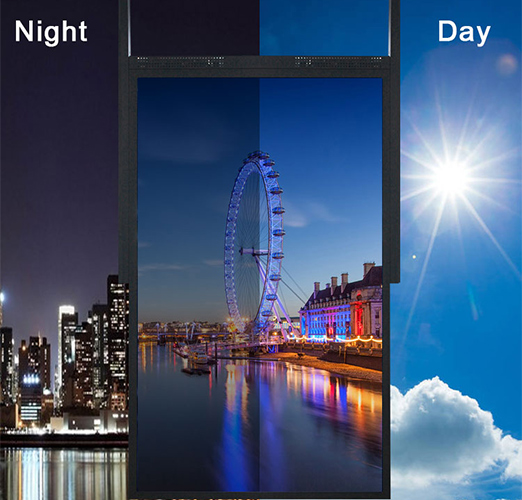 4. Content management
Since the digital window display is usually hanging behind the shop window and facing outside, it is difficult and inconvenient for clients to use a U disk to upgrade contents. A remote content management software is necessary for clents.Connected by LAN or WiFi, you can release contents or programs remotely from your computer.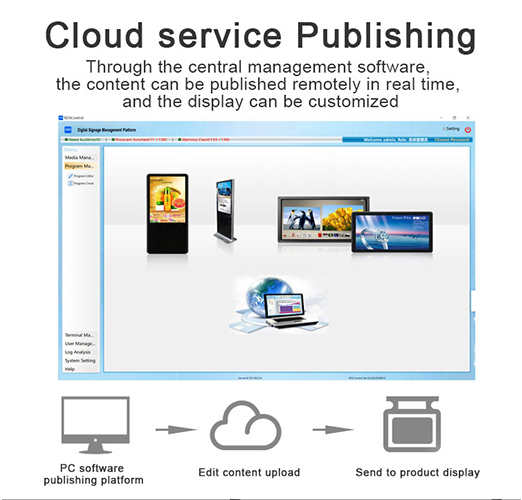 What are the benefits of digital signage window displays?
When used in shopfront windows, digital window signage has been proven to capture 400% more views than static signage. With eye-catching motion, varying content and captivating colours, it's easy to see why. Plus, our specialised solutions are designed to combat sunlight so you can rest assured that your content will always stand out.
If you want to draw passers-by into your store, transform your high street presence by investing in one of our high brightness displays.