setting for floor standing advertising digital display standee
Published:2021-04-07
Views:738
Basic requirements for outdoor advertising display standee settings
Outdoor advertising Display Screen must not interfere with public safety, city appearance, and traffic order;  The shape, specification, and color of Floor Standing Advertising Display should be coordinated with the surrounding environment;  Outdoor advertising in the same area in the outdoor space should be set up in groups and specifications Uniform; its layout should help the enclosure of the outdoor space;  outdoor digital display standee should be well-made, the brackets should not be exposed, and materials that meet energy-saving and environmental protection requirements should be selected;  outdoor digital display standee are only allowed to be set up in commercial buildings or commercial parts of comprehensive buildings;  outdoors digital display standee must not hinder the daily use and safety requirements of buildings, neighboring buildings or other neighboring public facilities, such as: daylighting, ventilation, line of sight, traffic passage, use of fire-fighting passages, etc.;  The setting of outdoor advertising display standee must not be on the building to which it is attached Architectural facades of objects or surrounding buildings The image causes destructive adverse effects;  Outdoor advertising must not affect aviation safety, and outdoor advertising in the form of neon lights, flashing light sources and red lights is prohibited in the airport and its surrounding areas;  Transportation in the province Where outdoor digital display standee are set up within the land on both sides of highways (including expressways) where the competent authority delegates the authority to approve digital display standee, it shall be implemented in accordance with the guidelines. If outdoor digital display standee are set up within the land on both sides of highways (including expressways) where the right to approve digital display standee has not been delegated, please refer to the "Administrative Measures on Highways and Advertising Signage Facilities on Both Sides of Guangdong Province" (Guangdong Jiaotong Law [2003] No. 1293) for management methods .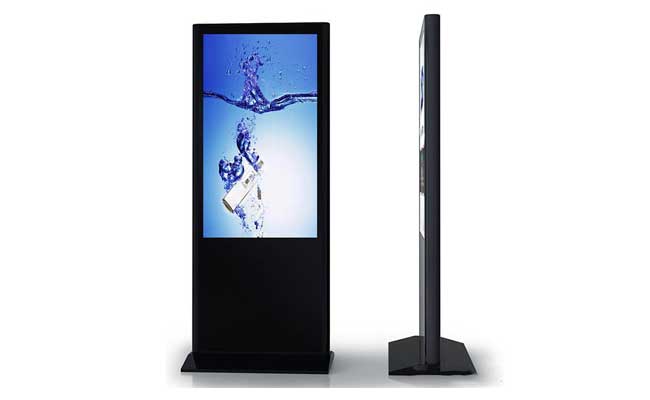 3.2 Outdoor advertising display standee range  
In addition to prohibiting outdoor advertising in general situations prohibited by laws, regulations and rules, one of the following situations is also prohibited: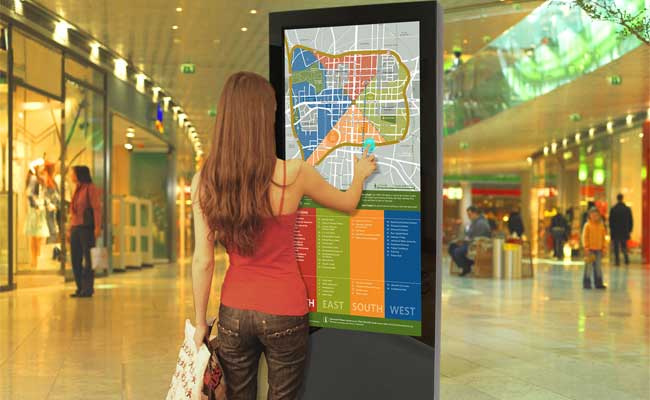 3.2.1  Advertising display outdoor is set on both sides of roads and road junctions.Obstructing the safe visual distance and affecting traffic, in the following circumstances:Blocking or occupying street lights, traffic signs, traffic signal lights and public signage facilities;  Extending to the space above the road or crossing the road; Set in overpasses, pedestrian crossing bridges, railway bridge At the entrances and exits of bridges and underground crossing passages;  Set within 5 meters of the entrances and exits of people and vehicles such as tunnels, highway management gates (including toll gates), elevated road ramps and rail transit;  Hinder the use of barrier-free facilities; Floor-to-ceiling digital display standee other than street public facilities digital display standee shall be installed on the sidewalks of urban roads larger than 3.5 meters.      
3.2.2 When setting up municipal public facilities, it will affect the normal use of municipal public facilities. Use municipal public facilities when setting up
The facilities are in the following situations:  outside bus shelters and telephone booths, bus stop signs, rail traffic signs, road name plates, fire hydrants, post boxes and other facilities are installed within 5 meters;   installed at two entrances and exits of public facilities with a large number of people or vehicles. Within 5 meters on each side;  Set in the safety protection range of underground pipelines and overhead power lines.      
3.2.3  Set up outdoor digital display standee on buildings, destroying the city's style, landscape, and affecting the city appearance and environment, under the following circumstances:  Exceeding the height limit set by outdoor digital display standee;  Installing on dangerous buildings.      
3.2.4  Use street trees or damage the green space when setting up, there are the following situations:   dependent on the street tree setting or will affect the growth of street trees;   will affect the green growth;   obstruct the urban public green landscape.      
3.2.5  is installed in the residential part of a residential building or a comprehensive building.      
3.2.6  is set on the architectural glass curtain wall.      
3.2.7 When the transparent wall is set, it will affect its transparent function.      
3.2.8  is set up in the following areas:        
The planned government agencies, cultural relics protection units, scenic spots, schools, historical and cultural areas, outstanding historical buildings and surrounding building control zones.