Customized 86 Inch 4K Outdoor Digital Signage Case Study
Published:2022-02-18
Views:621
As high brightness screens technology developed better and used widely, more and more business owners start to choose outdoor LCD advertising display. Outdoor LCD digital signage brings more advantages such as high brightness screen (2500nits, 3000nits, even 3500nits), good viewing experience, and waterproof and dust-proof. It begins to replace outdoor traditional light boxes and paper media and earn more market share.
Asianda, as a professional manufacturer of LCD displays since 2010 in China, also focus on outdoor displays for more than 5 years, have helped hundreds of customers with outdoor weatherproof displays. Asianda has professional engineering team for OEM&ODM service, professional production and testing team, and timely and nice after-sales service.
For outdoor advertising LCD displays, we design thin outdoor digital signage to catch the market trends. The device is approved with CE, Fcc, RoHs, IP65 and IK10. The LCD screen size we have 49", 55", 65", 75" and 85". It can be single sided or double sided. Installation method will be wall mounting or floor standing. Today, we will share with you one of customized 86 inch 4K outdoor digital signage cases to get good knowledge of us.
This big screen outdoor totem solution is used for news broadcasting at college. Customer needs customized kiosk with 2 pieces 86 inch 3000nits outdoor displays and 1 piece 32 inch 2000nits interactive touch screen display. And the displays will be supported by matte finish baking paint column. Besides, it will need customized three-dimensional school badge. At first, our structural engineer designed the drawing according to the requirements. Then the vector diagram with the customer after deep communicating.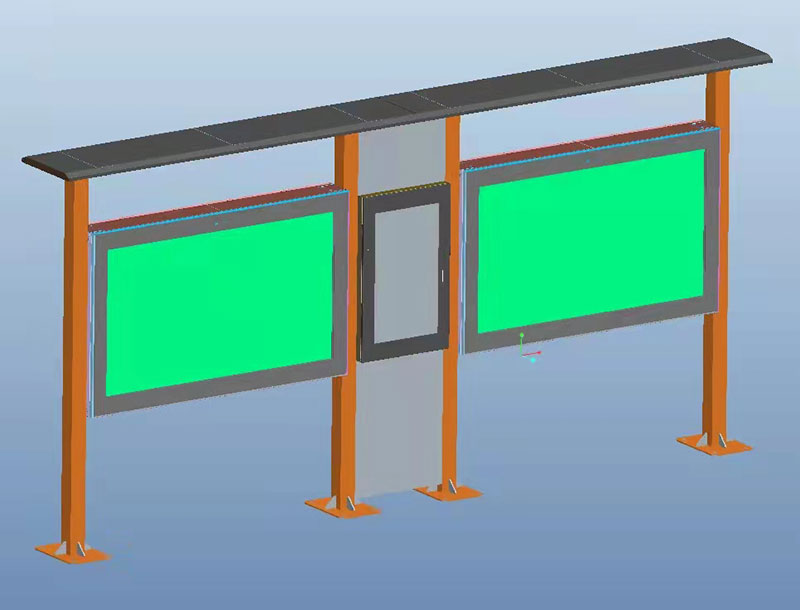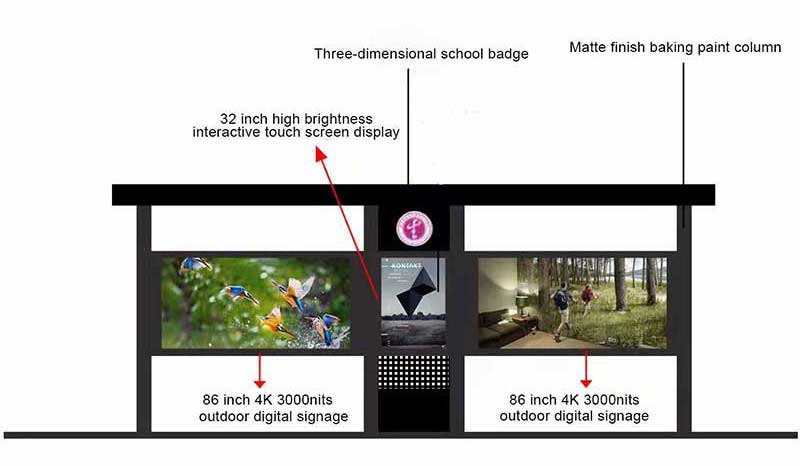 After confirming all the details, we began the order production soon. The 4K 3000nits screens will be tested well before assembling. The device is assembled with enough smart fans which can adjust its speed based on the working environment temperature. It will ensure the outdoor digital signage working well 7×24h. Besides, it has built-in light sensor which can adjust its screen brightness automatically according the outdoor environment light, and it will be environmental and save electricity. Built-in waterproof speaker can bring good voice for video displaying and viewing experience. The device also have microcomputer timing switch function and can switch the machine by setting time.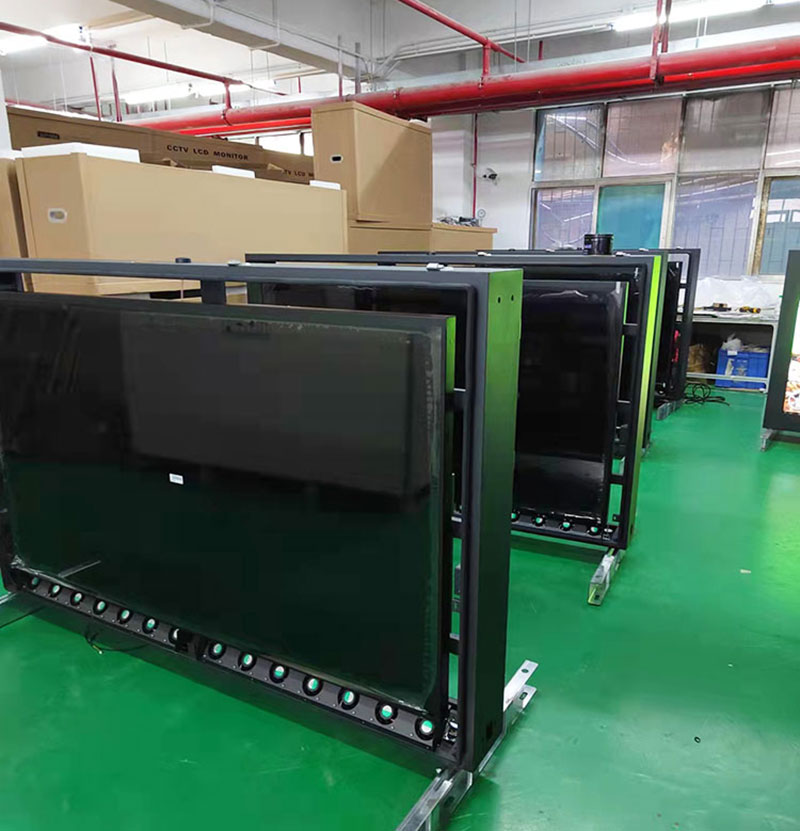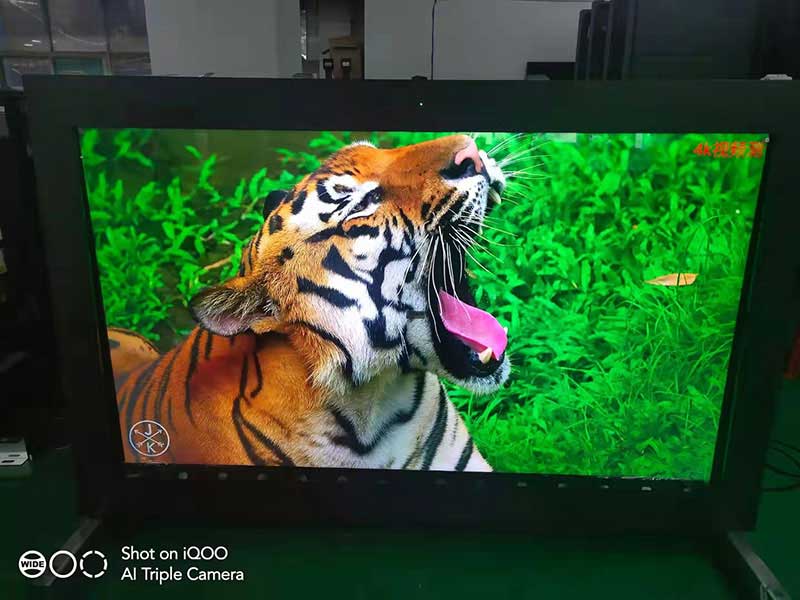 The wall mounted 86" 4K outdoor LCD digital signage and 32" will do 3-4 days for aging test after assembling before packing. They will be packed well with honeycomb box and wooden box. Our engineers will offer professional files and guidance for installation after customer receiving the outdoor kiosk displays. We will offer content management software account for uploading contents remotely on-line.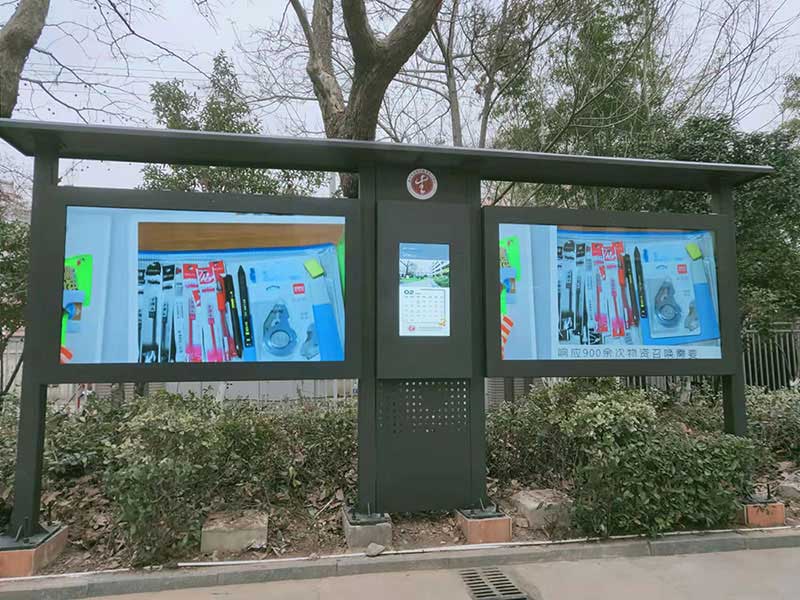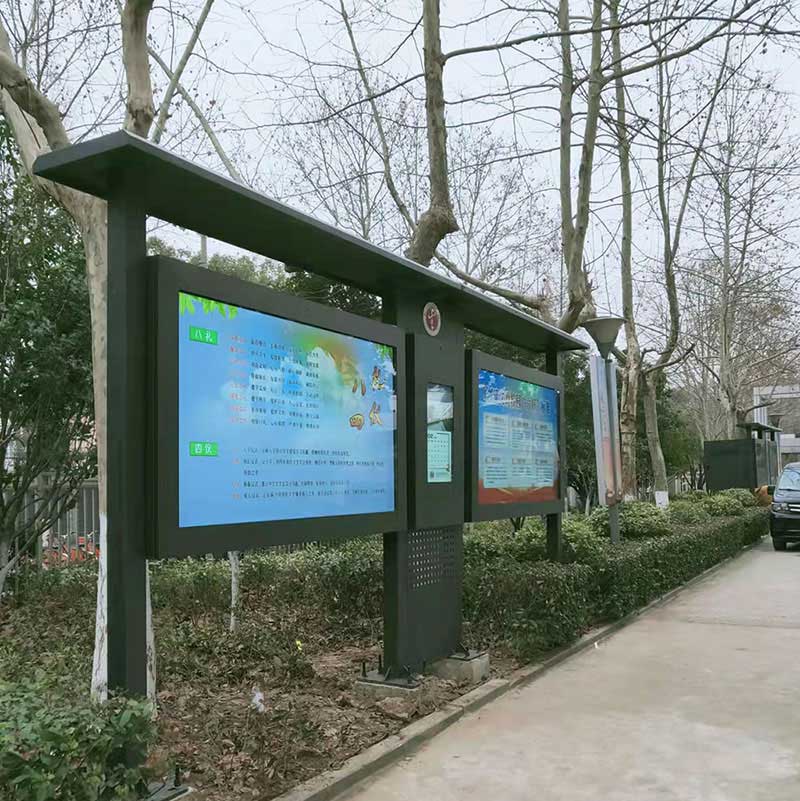 Except above customization such as screen brightness, floor stand and so on, we can also customize the screen for polarized sunglasses, capacitive touch screen, AR glasses. For the software, we can manufacture the outdoor digital signage with these sensors such as fan speed sensor, working temperature sensor, screenshot and door sensor. You can monitor these device data through software at computer remotely all the time. Welcome to contact us for more info.