75inch Big Size Outdoor LCD Information Kiosk Project
Published:2022-04-27
Views:560
75inch Big Size Outdoor LCD Information Kiosk Project
Outdoor LCD advertising player, regardless of the weather, can display your information outdoors, bringing good visual and auditory enjoyment to outdoor information dissemination.It can be widely used in outdoor advertising broadcasting, outdoor public information release, outdoor media communication, touch interactive query and other fields.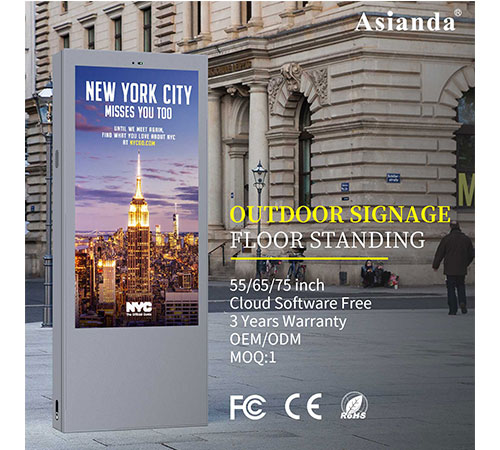 1. High-definition highlight, able to adapt to various external environments
2. It can automatically adjust the brightness according to the environment, reduce light pollution and save electricity
3. The temperature control system can adjust the internal temperature and humidity of the equipment to ensure that the         equipment operates in an environment of -40--+50 degrees
4. The outdoor protection level reaches IP65, waterproof, dustproof, moistureproof, anticorrosion, and riot proof
5. Remote release and management of broadcast content can be realized based on network 3G and other technologies
6. With HDMI, VGA, AV, etc. video interface, easy to play
7. Support various multimedia file formats: MPEG-1/2/4, MP3, AVI, DAT, PPT, etc.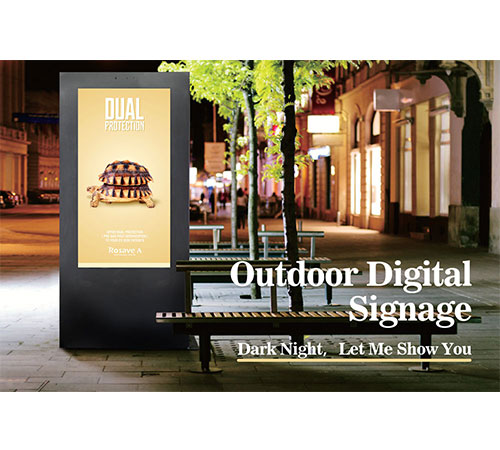 According to appearance: outdoor LCD advertising machine vertical floor type, outdoor LCD advertising machine horizontal floor type, outdoor LCD advertising machine horizontal back hanging type, outdoor LCD advertising machine vertical back hanging type, outdoor LCD advertising machine splicing type 
By function: stand-alone version, network version
By size: 43 inches, 49 inches, 55 inches, 65 inches, 75 inches, 86 inches, customized size
Outdoor LCD advertising machine application:
Business district CBD, telephone booths with high traffic flow, bus stops, airports, railway stations, wharfs, parks and squares, leisure places, tourist attractions, high-end communities, catering industry, government and corporate publicity, etc.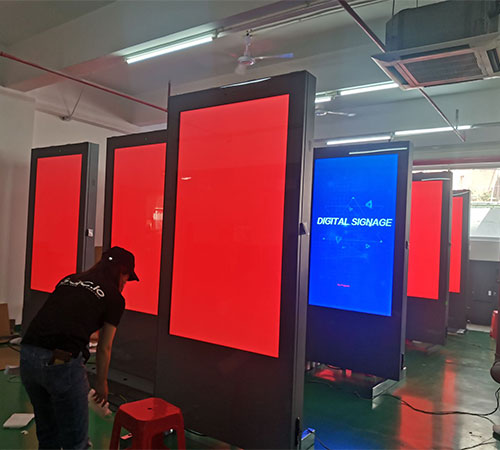 1. Good visual impact. Using outdoor LCD advertising player in outdoor public places has unparalleled advantages in transmitting information and expanding influence.A giant advertisement set up in a prime location in a city is a must for any company that wants to build a lasting brand image. Its directness and simplicity are enough to fascinate big advertisers all over the world.Even often become a landmark of a city.
2. It can be released for a long time. The outdoor lcd digital signage runs 24 hours a day without interruption. It is a persistent and all-weather communication medium. This feature makes it easier for the audience to see it.It is built to last as long as the customer demands. Online media has similar advantages, but in the virtual world, the audience needs a series of prerequisites to approach, while outdoor media,Because of the uniqueness of physical space, this advantage is played more thoroughly.
3. The display content is rich, and it is easy to replace and save costs. The outdoor advertising information kiosk can make self-made programs, broadcast in real time, and have rich content. At the same time, the playback content is not limited to advertisements.There can also be programs including special topics, columns, variety shows, animations, etc., only need to edit the program, other without any investment, saving costs.