How To Benefit From Outdoor Digital Signage
Published:2021-05-06
Views:1308
Outdoor advertising kiosk has been used in the outdoor advertising market for many years, mainly in commercial buildings, schools, hospitals, public transportation and other industries. Therefore, the lcd advertising player machine also has the advantages of strong pertinence, high arrival rate, mandatory viewing, high city coverage, low carbon and environmental protection, etc. The advertising machine has become a platform for displaying outdoor advertising.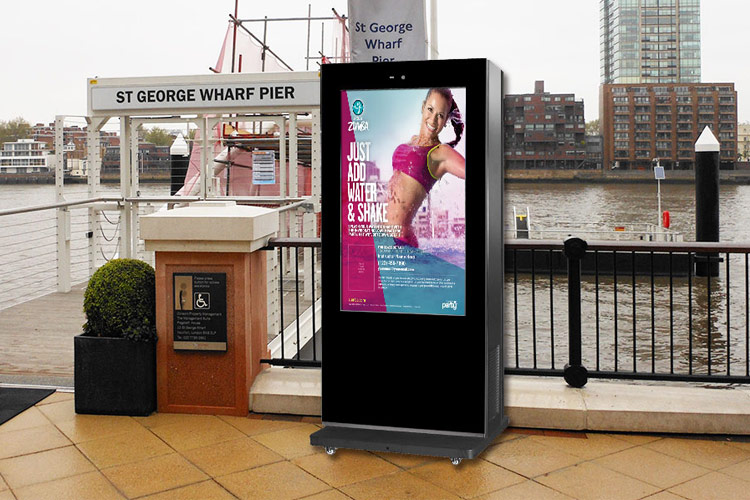 Usually as an Outdoor advertising kiosk display screen, it must have advantages as below:
Built-in media player box supports LAN or WiFi connection for remote control and management.
Touch screen can be an optional or an additional function, it could give the digital signage extra value and make the contents more interactive, more attractive and more interesting.
Outdoor digital signage totems are usually using industrial level panels which has a more stable quality and longer life span, a higher brightness panel with more than 2000cd/㎡, even 3500cd/㎡.
Buiilt in various sensors, such as light sensor, temperature sensor, humility sensor, smoke sensor,etc. With these sensors, users can monitor the real-time working status of all the digital signage outdoor screens.
The current outdoor media has long broken through the single-form billboard type, and more new outdoor media have emerged. Mainly can be divided into two categories: print advertising and LCD screen media advertising.
Although the cost of print advertising is low, its relative limitations are too large, and it feels unnatural. The commercial outdoor digital signage displays firmly establishes the position of the protagonist by virtue of its clear images, realistic pictures, and vivid display effects.  With the advancement and widespread use of digital science, the concept of media integration is becoming more and more perfect. Outdoor LCD advertising media has become the new favorite of international 21st century advertising industry, and its development potential is far higher than that of traditional TV, newspaper and magazine media.
Outdoor advertising kiosks have gradually changed from single release to intelligent interaction, and strive to increase revenue and reduce operating costs to improve customer satisfaction. At the same time, the selection, placement, and content of multimedia Outdoor digital signage totems have become more and more refined. So after purchasing outdoor advertising machines, how should businesses place them to achieve results?
In the ever-evolving social process, Outdoor digital signage totems have gradually changed from single release to intelligent interaction, and strive to increase revenue and reduce operating costs to improve customer satisfaction. At the same time, the selection, placement, and playback of multimedia outdoor advertising machine equipment have become more and more refined.
1. Place near the crowd
The intelligent interactive outdoor advertising kiosks can be used in a place with a lot of people. Generally speaking, it is better to place it near the entrance than near the exit, because consumers still have a sense of freshness when they first enter a retail store. When LCD outdoor advertising display is spread over a larger area, such as a retail store, the machines should be placed on popular paths along the route so that people can find them more easily. Because people don't like to wait, especially when they are shopping, a sufficient number of advertising machines should be placed in branches to ensure that they can serve consumers more quickly.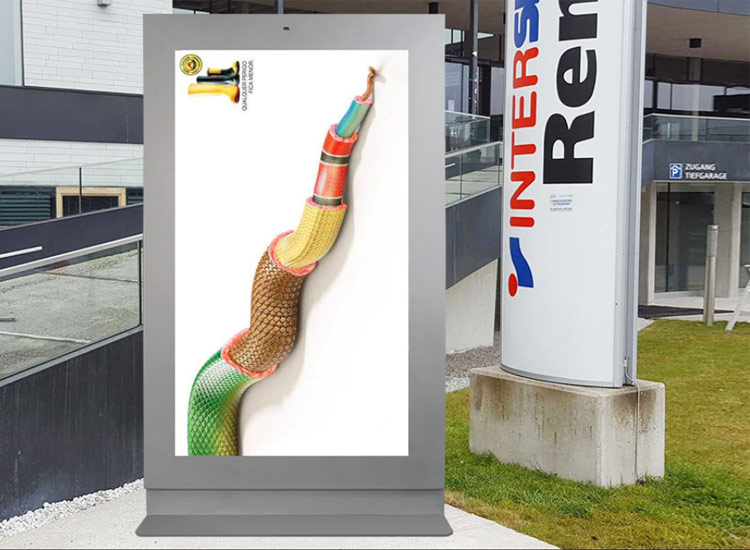 2. Place multiple outdoor advertising LCD display screens in multiple locations
The location is good, but when the number of kiosks is too few, the publicity effect of the Outdoor digital signage totems can not be achieved, including the long wait, which will lead to reduced sales and consumer dissatisfaction. A good deployment plan is to provide enough digital signage outdoor digital signage machines to ensure good coverage in various places, even if one machine is under maintenance, it will not affect the normal operation of other areas. After using a large number of devices, sales have increased substantially, and consumers are also very happy in shopping.
3. Continuous advertising to let consumers know
When a company provides a continuous product advertising information through the outdoor lcd display screen device, the result will make people willing to spend more time or even money to learn more about the product and service. When the LCD outdoor advertising machine is built on the basis of human psychological understanding, it can bring huge benefits to most companies.