Application of Asianda Digital Signage in Various Industries
Published:2021-12-29
Views:554
At present, digital signage has been widely used instead of traditional static advertising signage. The integration of the Internet and multimedia technology has released and processed information in the form of media, which exerts greater vitality in video and interactive functions. This time, it will be combined with Asianda's digital signage to analyze its in-depth applications in new retail, medical, transportation, education, and other fields.
New retail scene APP
Dynamic content display, focusing on consumers' eyes
Applied to the catering industry of new retail, Asianda Outdoor Floor Standing Digital Signage can be constructed with multiple screens. On the other hand, through video, scrolling posters, dynamic templates, and other dynamic content display, smart screen/screen display, to maximize the display of food and delicacies in the store, enhance the visual appeal of the delicacy to consumers, and comprehensively enhance the shopping experience of consumers; On the other hand, through video, scrolling posters, dynamic templates, and other dynamic content display, smart screen/screen display, to maximize the display of food and delicacies in the store, enhance the visual appeal of the delicacy to consumers and comprehensively enhance the shopping experience of consumers; while ensuring the timely of store promotion and food information, it can effectively save the store's continuous investment costs in talent.
Used in shoe stores, luxury goods counters, and other store scenes, through embedded settings, it helps the store to create an intelligent window, which can not only bring a more powerful visual impact but also save more space layout in the store, Saving store operating costs. In addition, the software and hardware integrated solution of the digital signage CMS publishing system can also be applied to smart containers to realize the unified dispatch and management of a large number of smart container displays.
Compared with the scenes such as hotels and club receptions, Asianda digital signage can shape the brand image of high-end hotels through its exquisite and steady design. In addition, the digital signage accurately displays the hotel room price list, hotel discounts, hotel strength, and qualifications, etc., so that guests can establish a clear understanding.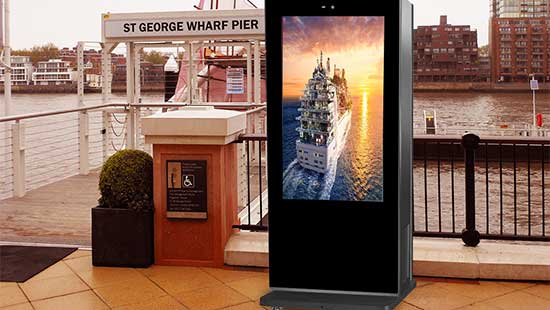 Medical scene APP application
Call the number in real-time for efficient and intelligent diagnosis.
When applied to medical scenarios, Asianda digital signage mainly has three functions: queuing number information display, intelligent guidance and diagnosis, and intelligent display of medical information. Applied to the outpatient area of the hospital, the digital signage is connected with the hospital system to display queuing call information in real-time, so that patients in the queue can understand the queuing status in real-time and prepare for the consultation in time; after being applied to the consultation desk, it can display inquiries and registrations in real-time. Information such as precautions for consultation and consultation process can speed up the consultation process, relieve the work pressure of medical staff at the service desk, and improve the efficiency of consultation.
After being applied to the nurse station, patients on existing floors/departments can display information such as the number of inpatients and beds in real-time. Nurses can coordinate and plan in advance. At the same time, they can display the basic information of patients in each bed more clearly, so that shift nurses can quickly understand The condition of each patient is applied to the outpatient hall and the corridors of each floor. It can support the patient waiting list and call information to be switched to the same screen and split-screen display, while displaying basic information such as weather and time, as well as life sciences such as health care, tobacco, and alcohol hazards, etc. Information, precautions for epidemic prevention and control, etc., with extremely high flexibility.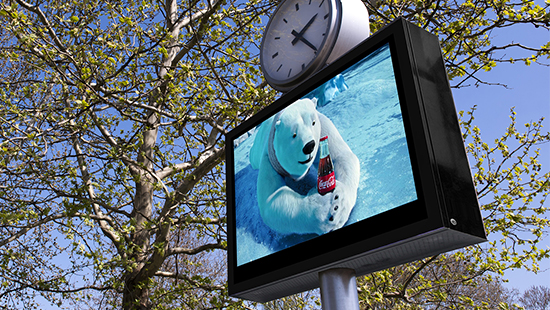 Traffic scene APP
Flight information guide, dynamic display of subway stations
In the airport environment, Asianda digital signage can be used as a large screen for aviation. It can not only prompt the information of flights and boarding gates in real-time, realize the guidance of flight information and meet the identification requirements of passenger flow information, but also follow up the duty status of each flight in a timely manner to improve the passenger experience.
For subway scenes, Asianda outdoor digital signage can be applied to subway station waiting rooms. After docking with the subway PIS system, it provides a dynamic display of the entire arrival and station information, realizes accurate station broadcasting, and visually displays the rail transit route direction and transfer information. Contents such as precautions for epidemic prevention and control, government affairs, civilian information, commercial advertisements, etc. can be displayed in a carousel or scrolling screen by screen, and through comprehensive information display, good civilian travel services are provided.
Educational scene app
Show wisdom, show campus style
Aimed at the educational scene, the Asianda digital sign can be applied to campus exhibition halls, corridors, and other areas to further realize the intelligent display of campus information. After being applied to the corridor area, it serves as an "intelligent message board", which facilitates the school to aggregate and push the information such as policy announcements, notification reminders, campus news, and school introductions to the digital signage. In addition, the school's weekly schedule, temporary welcome slogans, campus activities, and other text messages can also be broadcast on screens/carousels to create a rich campus cultural atmosphere. Applied to the honor wall of the exhibition hall, it can flexibly display campus construction results, scientific research results, campus acteristics, campus events, campus style, and other information, and intelligently display campus style in real-time.
Adhering to the brand mission of "innovation for you", Asianda has been paying attention to the needs of customers in the industry for many years, digging deeply into the pain points of various fields and scenarios, and creating a more professional, more comprehensive, and more personalized business through full-screen products such as digital signage.