Does advertising digital signage need to have touch function?
Published:2021-03-29
Views:777
Nowadays, with the development of science and technology, Advertising Display LCD Screen with Touch Function is an important advertising media to release advertising information. It's used in so many different scenarios. Such as supermarkets, shopping malls, hospitals, tax bureaus, banks, enterprise receptionists, etc,. What are the advantages of the Digital Signage with Touch Function? 

1. Touch Screen Interact Kiosk is a beautiful scenery line. In recent years, the development of Touch Screen Kiosk has obviously become People's Daily life in contact with the most advertising transmission carrier, at the same time by the major industries recognized. Interactive Touch Screen Kiosk gives people a very magical feeling, with colorful pictures and various performances, so that consumers continue to appreciate it repeatedly, because of its "beauty", all major industries are fascinated.

2. Touch advertising LCD Screen Display is a multi-functional machine. Digital Touch Screen Display has the advantages of larger display screen, brighter brightness, clearer color, better protection, video and picture rotation, timely interaction, better multi-touch function and swipe at any time, etc. It can be played back by dynamic text, pictures, videos and other consumer love to see the file form, to provide consumers with more comprehensive product information, the picture of the advertising machine than posters, more clear and realistic, attract the attention of consumers, arouse consumers' desire to buy. 

3. Touch Screen Kiosk can play different advertising content in 24 hours, the content is rich and interesting, unlike fliers, posters and other cause passers-by aversion and rejection. And the advertising machine has a timely switch broadcast, but also timely interaction with the user communication effect. I believe that in the near future it will become an important part of the "information propaganda", for each industry ushered in the "exclusive" marketing line.
This is why the touch advertising digital signage is used in so many industries, the first is beautiful, followed by many functions, and then can be used as a marketing machine, and is very convenient for customers to use!
For the types of touch, the most commonly used are infrared touch and capacitive touch. Let's share more details with you.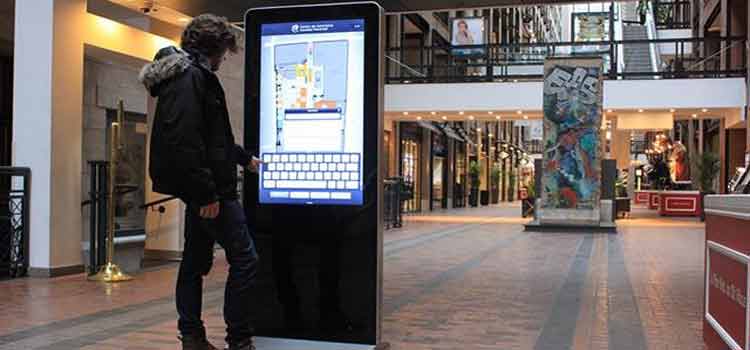 1) Outdoor & Indoor. The capacitive screen can resist light interference. Infrared touch, there will be some interference under strong light, waterproof performance is relatively poor, not recommended for outdoor use. The stability of the capacitive screen is better. 
2) Running speed. The capacitive response speed is about 4ms, and the infrared is about 8ms. 
3) Appearance. The capacitive is purely flat, and the surface of the infrared screen has grooves. So the capacitive has an absolute advantage in structural design. 
4) Another factor is the price. The price of infrared is more economic. In terms of cost performance, some customers wold like the display with infrared touch.But with the development of technology, Capacitive Touch will be more and more popular in our daily life

Here are the products can be designed to touch.