Asianda New design double-sided outdoor high brightness LCD display
Published:2016-02-24
Views:4195
Asianda New design double-sided outdoor high brightness LCD commrcial display. 
1.High brightness sun readable screen(1500nits--3000nits)
2.Waterproof standard IP65.
3. 5mm safty anti-glare glass on surface.
4. Unique cooling system can let display working under direct sunlight.
5. Commercial designed for 24/7 operation
6,Built in heater, the LCD display can be worked -20℃
7, Size available 42",47",55",5",70" and 84".
8, Can be made both sides LCD , or front side LCD, the rear side LED poster.
Asianda new model YXD55S, YXD75S,  outdoor design, high brighness, better commercial solutions for the outdoor advertising display, dooh display, with the outdoor digital signage display.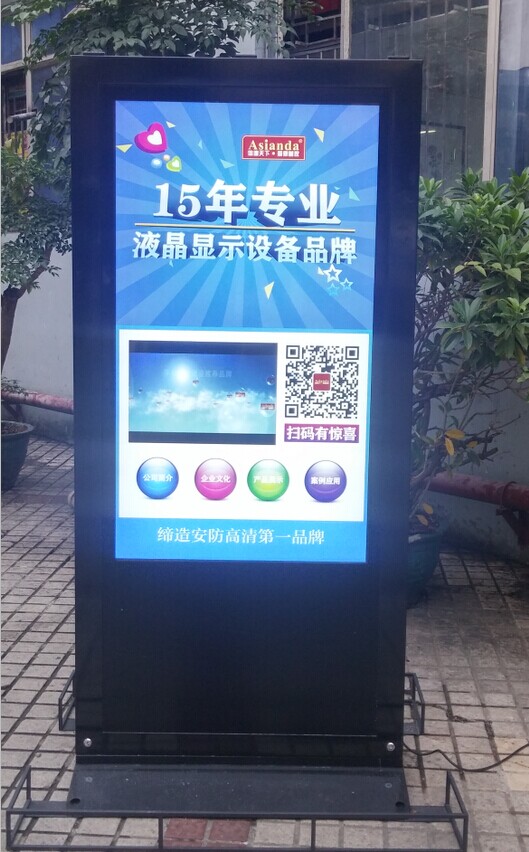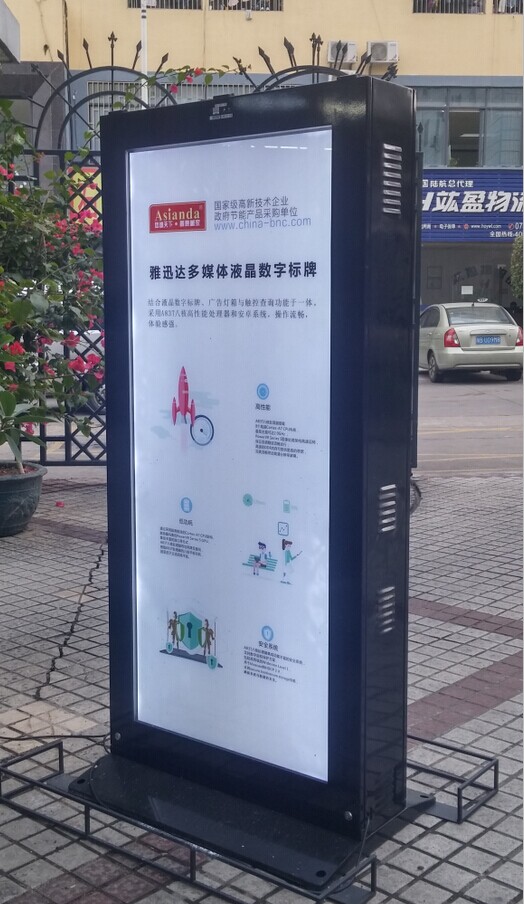 What are the acteristics of high brightness LCD display? I believe that many friends do not know this very well, so let the outdoor smart display manufacturers briefly introduce to you. Does outdoor display use LED screen or LCD high-brightness display?

When customers are faced with various outdoor vertical advertising machines on the market, they need to have a detailed understanding of them when choosing. To understand the acteristics of the highlight outdoor display advertising machine, you can start from the following aspects:

1. Diversified information display

Advertising player manufacturers use the broadcast design of the high-bright outdoor display advertising player to spread text, sound, image and other media information, which can make boring and abstract advertisements vivid on the vertical LCD advertising player.

The LED display can be extended arbitrarily and seamlessly spliced. The LED display can run for five years or more. In terms of display effects, the high brightness, wide viewing angle and good color reproduction capability of double sided led screen are also superior to LCD screens.

2. Not limited by time and space

Customers will use advertising screen outdoor in order to occupy the advertising market share. Their outdoor advertising machines can surpass the limit of time and space to advertise and spread, and the advertisements exceed the limit of time and space to spread advertisements.

3. The information obtained is more accurate

The high-bright outdoor display advertising machine can store a large amount of information, and the quality and accuracy of the transmitted information will be better than other media, and it is also well adapted to the market demand, d or adjusted in real time. Therefore, the needs of customers can be met effectively in a timely manner.

4. Great potential for future development

Most of the viewers of its content are young people, because this group is very large in purchasing power and has strong market power, so it has great potential in the future.

The above is the acteristics of outdoor smart display manufacturers introducing the highlight outdoor display advertising machine. I hope you can have a better understanding of its acteristics after reading it. If you want to know other aspects, please contact us.