55inch Dual Side Street Light Pole LCD display
Published:2023-08-01
Views:133
55inch Dual Side Street Light Pole LCD display 
The YXD550-3000 is an outdoor daylight readable display that can withstand harsh outdoor environments. With IP65 protection grade design and patented heat dissipation system, it is maintenance-free and completely waterproof, dust-proof, moisture-proof and even insect-proof. The display's cover glass is optically fully bonded, increasing perceived contrast and reducing reflected light for stunning image quality even in direct sunlight. With an operating temperature range of -20°C to 60°C, it can work outdoors year-round without worrying about extreme high or low temperature fluctuations. This high-brightness light pole display provides 3000nit brightness output to cope with outdoor ambient lighting conditions, while the ambient light sensor automatically adjusts the brightness of the display to optimize power consumption and enhance the viewing experience. Offering unrivaled functionality, the perfect digital signage or outdoor light pole display solution for any professional application.
1.Optically bonded anti-reflective cover glass improves perceived contrast and reduces glare for stunning image quality even in direct sunlight
2.Daylight readable, LED backlight, Full HD 1080p resolution, bright and clear picture
3.Remote and local monitoring, supported through an IP addressable user interface, for temperature, humidity and power consumption diagnostics of the display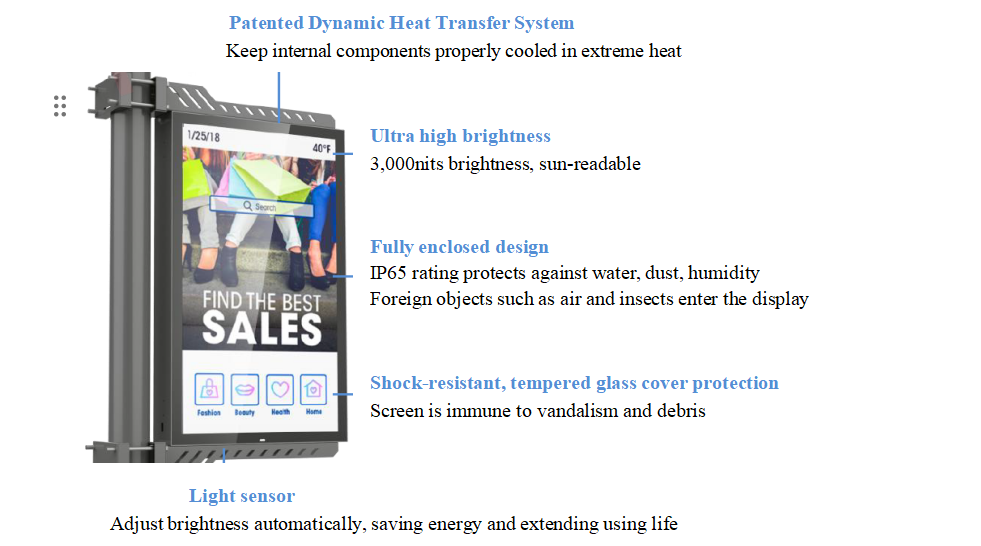 Welcome to contact if any interests!