250pcs 65inch Outdoor Floor Standing Digital Signage
Published:2021-12-14
Views:716
Shenzhen Yaxunda LCD Display Equipment Co., Ltd, known as Asianda, is the professional manufacturer and solution provider of outdoor LCD digital signage. We have had helped outdoor LCD displays projects for bus shelters, roadsides, car service centers, squares, shopping malls in Australia, United Kingdom, German, Sweden, Netherlands, Austria, Greece, Ireland, United States, etc...countries.
At the middle of November, Asianda received 250pcs 65inch outdoor floor standing and wall mounted digital signage order from our overseas client, which would be produced in 4 batches. 43pcs 65inch outdoor screen was shipped out on 5th, December. Now we keep producing the second batch.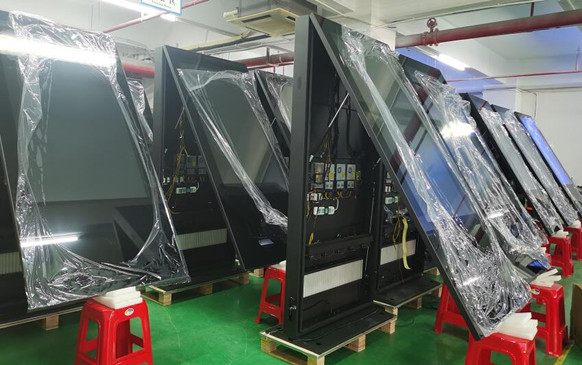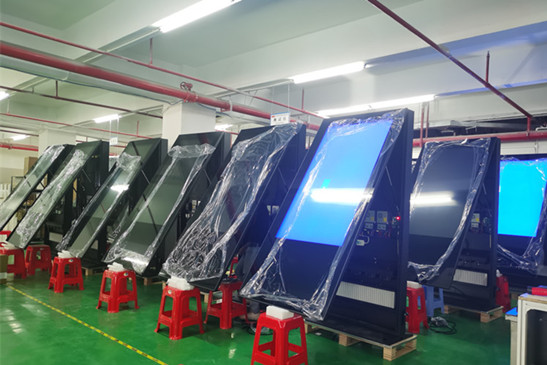 Below are some features of 65inch outdoor floor standing display for this project:
1. 3000nits brightness LCD panel: it is sunlight-readable under direct-sunlight. The people could read the contents clearly.
2. 9mm AR laminated glass: as safety glass, 6mm tempered glass is a standard protective glass for outdoor digital signage, making it be explosion proof and vandalism proof. But for this project, the client chose 9mm AR laminated glass as the protective glass for this special application. Featuring IK10 standard glass, the outdoor displays are perfectly protection from external impacts. And the gap between the protective glass and the screen prevents the LCD panel breakage when the glass broken.
3. Circular polarizing technology: featured with circular polarizing technology, the people can easily see the contents on outdoor screens even they wear polarized glasses, to protect their eyes, mean while not to miss the display.
4. Easy setup and maintain: the outdoor lcd screen displays are with lift-up front door, allowing the engineers easily access the inner components for repair or maintenance by lifting the front door.
Here shared some production pictures for your reference.
Any project we could help with, please do not hesitate to contact Asianda team.