2021 Asianda Team Annual Meeting
Published:2022-01-19
Views:682
Asianda team has held their 2021 annual meeting on the 15th Jan 2022 Saturday. This is Asianda company traditional to hold an annual meeting very year. The purpose is not only to summary the success and failure for the past year, but let each Asianda staffs have a good expectation for the following year. The year of 2021 is tough for every person and every firm. As a professional LCD display products manufacturer, we appreciate our clients' support and trust, suppliers' help and cooperation, team members' persistence and understanding. Covid-19 has influenced the whole world for more than 2 years, especially in LCD market, it became more and more difficult, many projects postponed or stopped. But we always have confidence to face all the challenges. Let's have a look on the annual meeting.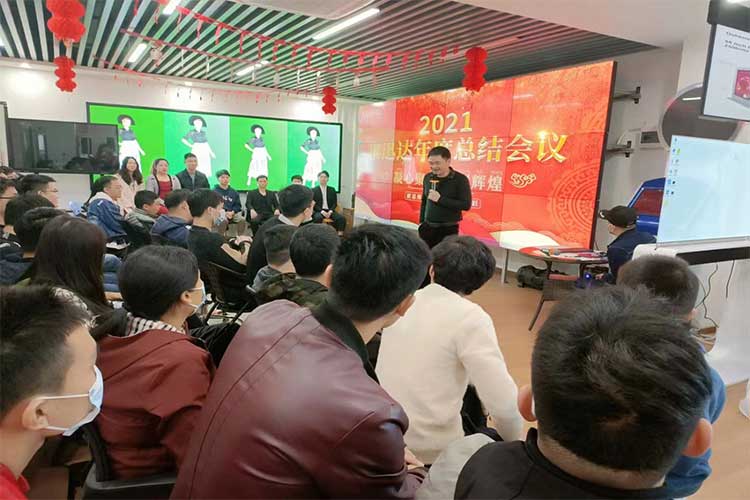 As the CEO of Asianda company, Mr.Ouyang gave a meaningful speech. With more than 20 year experiences on LCD products, Mr.Ouyang looks back to the history of LCD markets development, right now, LCD Video wall and digital signage products' competition becomes fierce and cruel in the whole market, we have think out a new plan to enhance our advantage and competitiveness. Asianda started to focus on outdoor lcd digital signage from the beginning of 2021, we have our own-designed hardware and software and already got positive feedback from domestic and overseas clients. On the other hand, Mr.Ouyang thanks for all the staffs who working hard and achieved their goals in 2021. A company's development can not leave each employees' contribution. Wish we could stay together for more years and make a difference.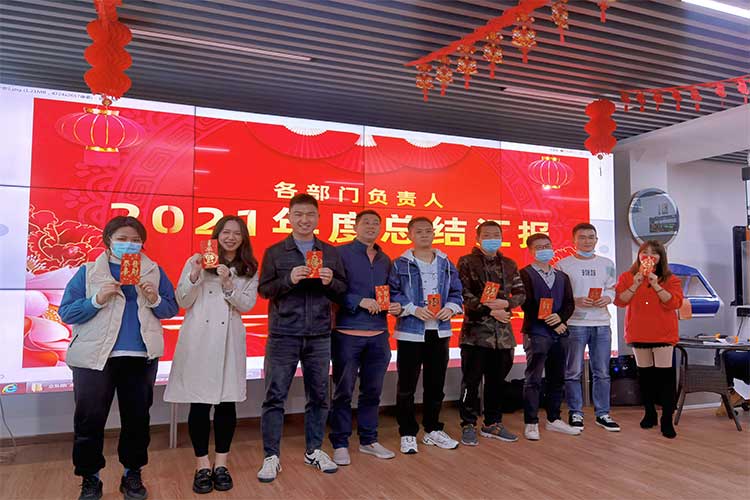 After the Mr.Ouyang's speech, the next part is for every department supervisors' summary and plan. There are Overseas Sales Department, Domestic Sales Department, Workshop Department, Research and Development Department, And Logistics Department. And each department select one or two outstanding representatives to share their experience and feeling for the past year working and life in Asianda. The most exciting news and biggest order is overseas sales obtained a 250pcs outdoor lcd digital signage order and finished the production as the requires of client. This is a big achievement we have made last year and also let everyone have more confidence on Outdoor digital signage market, we also believe Asianda will provide high quality lcd product to our clients. Meanwhile, for domestic market, we establish a new department which mainly for Outdoor digital signage's sale, marketing investment and development. LCD video wall and Outdoor digital signage will be our direction and market in the year of 2022.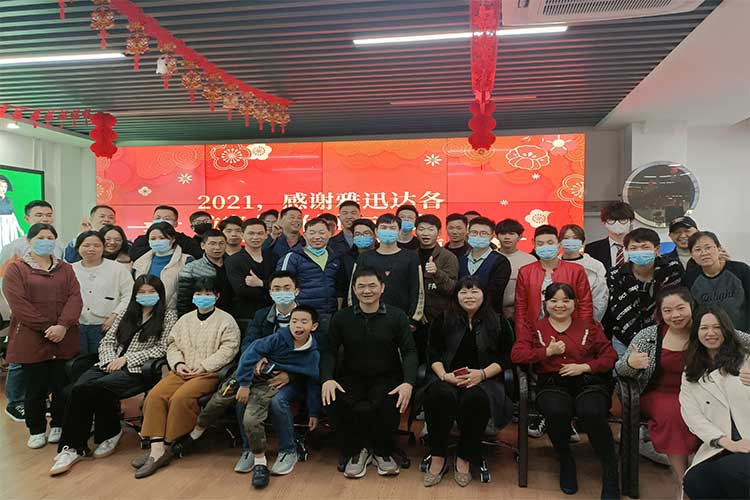 Asianda team is big family. It has more than 40 members in all and we wish everyone in this team can realize their dreams and help company to move forward more. With our excellent leaders and hard-working staffs, we have more expectation and more confidence on LCD markets in the following year of 2022. No matter what difficult we will face, we will stay together. To give our outstanding customer's best service, we are keep going and looking forward to expanding our team, serving more clients.