How to make the outdoor screens connect with the EV charging device
Published:2023-05-11
Views:439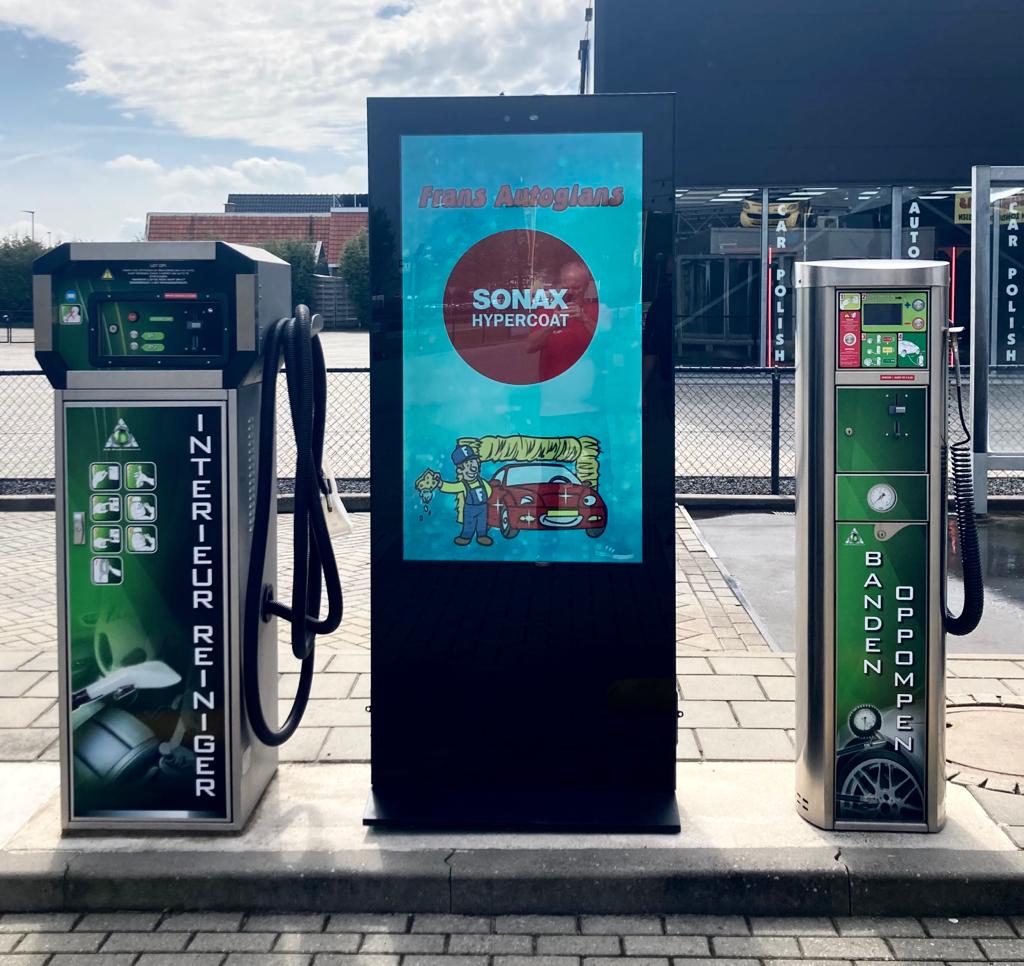 COVID-19 has accelerated the online shift of shopping, forcing brick-and-mortar retail stores to find new ways to increase their revenue. In recent years, the revenue potential of retail media networks has sparked a lot of discussion —— for a reason! But there is a new trend for retail owners: the pandemic accelerates demand for public ev charging infrastructure.
Retail sites with ev charging infrastructure can attract new customer bases and increase their in-store time and amount of in-store spending, benefiting from active corporate branding, customer loyalty and new advertising opportunities. In addition, pure consumer charging service, or charger screen advertising costs, also has a potential to increase revenue. Read on to learn more about the unique opportunities and commercial benefits that public ev charging infrastructure brings for retailers.
 The benefits of electric car charging stations to the retail industry
Facing the highly competitive retail industry, enterprises must attract customers in innovative ways, while increasing the value of each transaction. Turning your retail location into an EV charging destination is a simple way to achieve that goal. Here is an example of how hosting public electric vehicle charging stations can benefit retailers.
 Attract new high net worth clients
Electric car drivers are an ideal market segment for brand interaction. They are innovative and adventurous, have high disposable income, and are receptive to new products and ideas. Increase your brand awareness on the charging station search platform —— It is no exaggeration to expose your location to the user's map. In addition, when the driver knows that a place can provide this super value service, he is likely to become a loyal repeat customer.
 Increase the consumption time of the site
Charging stations will not only attract new electric car customers, but also increase the spending time of nearby stores while existing customers are waiting for their vehicles to charge. Atlas Public Policy The analysis data shows that the average charging time at retail locations is more than two hours ——. The InMarket report shows that among large warehouse club stores, department stores and grocery stores, consumers spend only 30 to 40 minutes on average, which strongly supports this claim.
 Enhance brand reputation
Consumers now prefer to shop at environmentally conscious businesses and employees prefer to work for them; a new survey found that more than half of the general population favored sustainable companies. An EV charging station at your retail location will demonstrate your company's commitment to sustainability goals and help increase environmental awareness or "green" reputation.
 How retail stores monetize electric car charging stations
 Attracting new climate-sensitive customers, improving your corporate image, and increasing spending time (and amount) at your location are great examples of how hosting public ev charging stations can help increase revenue. But there is another important way to charge electric cars, boosting the profits of retail owners: the charging stations themselves.
 The profit model of the retail location depends on the ev charging business model you choose, but when developing the realization strategy, you should also consider the location, expected use, average stay time and other factors. For example, in some parts of the United States, with the high charging costs and competition from public interest companies, it is unprofitable for electric cars to charge to convenience stores, but for electric car operators with large numbers of customers, the cost is less painful.
 As an alternative to ev charging (or combined with ev charging), playing digital outdoor (DOOH) ads on the digital screen of charging piles can be a good way to cover these operating costs, while also bringing in new direct revenue.
In short, retail owners can seize huge profit opportunities by hosting the ev charging infrastructure, but they also need to develop strategic monetization strategies and goals.
 Electric vehicle charging operation mode
 When installing ev charging stations at retail locations, there are usually two mains modes of operation: the owner —— operator or a third party. Before choosing a monetization model and monetization strategy, be sure to understand which ev charging station operation model is suitable for your retail business, as this will affect your expense and pricing model.
 In the third-party holding operation mode, the owner leases the retail site to the third-party ev charging service provider, and has no right or limited control over the pricing of the ev charging station, which means that they need not be responsible for the installation costs such as the site or maintenance and facility coordination. On the other hand, in the owner-as-operator-based model, the owner has full control over pricing, but is also responsible for coordinating site maintenance, cooperating with power companies, and paying for the entire operating costs of electric vehicle charging infrastructure.
These two modes of operation have their own advantages and disadvantages. To choose your retail location properly, consider a number of specific factors, including the total number of locations you own, your location, and how you plan to use the EV infrastructure. In order to help prospective retail site managers understand the economic applicability of the two models, we provide a detailed overview of the advantages and disadvantages of the various models below.
Third-party operation mode
merit:
· The risk of operating cost overruns is controllable
· No unexpected maintenance costs
shortcoming:
· Insufficient control over the customer experience
· Has no say in the fee structure and pricing
·  Profit sharing of charging stations is limited
 In the third-party holding operation mode, the owner leases the retail premises to a third party, who installs and operates the charging infrastructure. The site owner is not responsible for the operating costs such as the installation or maintenance of the site and the coordination of the facilities, but also has no right or limited control over the pricing of ev charging stations.
The lease agreement guarantees a stable income flow of charging station rent. Retail stores can still make extra money from new customers or consumers who stay longer. But site owners who rely on third-party charging service providers may give up control of customer experience and the right to operating income of charging stations. In short, by choosing the owner —— operator model that relies on third parties, retail place owners can reduce economic risk, but also limit profit margins.
The Owner-Operator model
merit:
· Direct contact with consumers
· Master all the charging data (who, when, how long, and how much)
· Complete control over the charging model and the customer experience
shortcoming:
·  Responsible for the maintenance and operational costs of the site
 The owner, namely the operator, purchases EV charging equipment from EV charging service providers and has complete control over the pricing structure and customer experience. But greater control also means greater responsibility. All matters needing attention after installation operation, maintenance, interconnection of public facilities and operation of charging station shall be undertaken by the charging station. The charging service provider is only responsible for the maintenance and replacement of warranty parts, to help solve common problems in the coordination of public facilities.
Nicely located charging stations may bring huge economic benefits to the owners and operators. However, if the owner —— operator chooses the charging station in a bad location, or adopts a charging structure that is not conducive to utilization or stay time, then the operating cost of the site may exceed the benefits. In the final analysis, the owner —— operator model can bring extremely high profits to the retail place owners, but the related financial risks are also inevitable.
 Potential profit source and realization strategy
As a retail trustee, your decision-making power depends on your choice of EV charging stations. But whether you are an owner operator with full control or decide to lease space to a third-party charging service provider, it is necessary to figure out the profit model of each electric vehicle charging station.
As for the direct profitability of charging stations, you currently have two main sources / options:
 Charge for charging electric cars
 Direct profit sources can provide several obvious values, such as membership dues paid by drivers or charging fees for electric cars. Charges are usually based on the charging capacity (i. e. $0.25 / KWH) or the charging time ($5.25 / hour). Some venues will combine the two methods ($0.75 / KWH + $0.45 / hour) to lower the hourly rate and prevent guests from "camping" there after the car is fully charged. Other businesses use a unified ev charging fee or membership fee.
Such billing structures can simply and effectively offset the operating costs of charging stations. But high rates may dispel consumers' desire to charge and even shorten the charging time. Charging service fees depend on your charging infrastructure usage strategy, but poor pricing can turn profits into a loss. A fee structure that increases customers' stay is more favorable for retail locations, such as discounted fees or even free —— latest retail locations Financial analysis found that ensuring high initial utilization is critical to achieving long-term profitability.
 Scene advertising
 Given the growing demand for digital outdoor (DOOH) and retail media networks (RMN) advertising display space, another electric vehicle monetization strategy is emerging and gaining popularity. Yes, we're talking about scenario-based electric car charging stations.
 Once electric car charging stations are seen as a form of advertising, everything will change. The digital screens of electric car charging stations in busy retail venues, which not only attract electric car owners, but also attract a large number of consumers, is undoubtedly a new way to generate large profits for marketers seeking efficient interaction with customers.
While charging fees are an effective tool to reduce losses, advertising revenue has proved to have a big impact on the profitability of EV charging stations. Adding digital signage to your electric vehicle charging station opens up a new possibility to monetize sales advertising. In addition, you can also reserve some DOOH inventory to spread your own digital messages.
 Three major reasons for combining charging stations with digital signage
Having consumers charge their electric cars while shopping is just the beginning. The real opportunity is to direct electric car drivers to designated retail locations and influence consumers close to the purchase point. What is the best way to do it? Expand your retail media network to EV charging station parking lots equipped with digital signage.
Retailers should prioritize EV charging stations equipped with digital signage, and the main reasons can be summarized as follows:
 Consumer expectations are constantly changing
 In today's pan-digital and personalized era, consumers want relevant and engaging content, both on computers or mobile devices, and in physical stores. At the same time, climate awareness grows, wanting to spend money on retailers with similar values. Research shows that millions of consumers are willing to interact with brands that highlight sustainability.
With the return of offline shopping, successful retailers are bridging the gap between digital shopping and physical shopping, creating a unified shopping experience around customers, and seamlessly switching between channels and devices —— The best way to bring digital experience to brick-and-mortar retail stores is through digital signage. Electric vehicle charging stations equipped with digital screens use their unique and effective way to help retail venues meet changing consumer expectations, improve the offline shopping experience, and make climate-sensitive consumers have a positive impression of on-site brands.
 Affect shoppers close to the point of purchase
In addition to generating direct revenue from advertising sales, retailers can also (and absolutely should!) Publish information to digital signage at electric vehicle charging stations to attract consumers. Connecting before consumers get off the vehicle increases brand equity value, benefiting from in-store sales; research shows that digital signage at retail locations increases the average purchase amount by nearly 30%. Essentially, this is an opportunity to influence consumers' purchase decisions before they enter the store.
 Use advertising space to attract FMCG brands
 The introduction of new privacy regulations and the demise of the cookie positioning strategy have forced marketers to rethink how to acquire, retain, and attract customers. This is a once-in-a-lifetime opportunity for retailers; unlike consumer brands and FMCG CPGs, retailers mostly "have" their own customer relationships and thus can access vast amounts of first-hand data. Without the need to rely on third-party data collection to create personalized, ultra-targeted digital experiences, which is therefore valuable to retailers and popular with CPG and other consumer brands.
Physical retailers are also the main battleground of regional DOOH (a rapidly growing advertising media, free of cookie issues). Long-looking retailers are using their customer data to build a strong retail media network (RMN) to give big brands new ways to reach consumers close to their buy points and earn an advertising premium. Third-party cookie will exit, CPG marketers need to transfer advertising revenue to other places, and the retail location of ev charging piles that support DOOH have a competitive advantage to attract advertising revenue.