Eface System Software YXD-F8
Published:2020-06-24
Views:2451

YXD-F8-A, the new generation on the face recognition temperature measurement terminal powered by the 
Eface  software, fast and accuracy detect will be a new revolution for the commercial markets.
The most valuable function is it supports Full touch and advertising function while the device is in stand by model.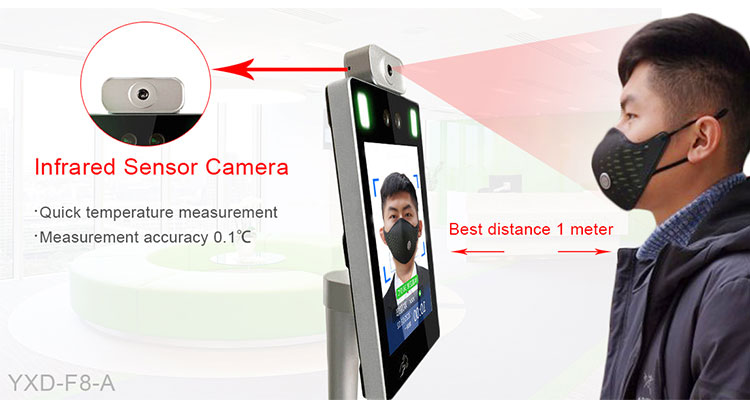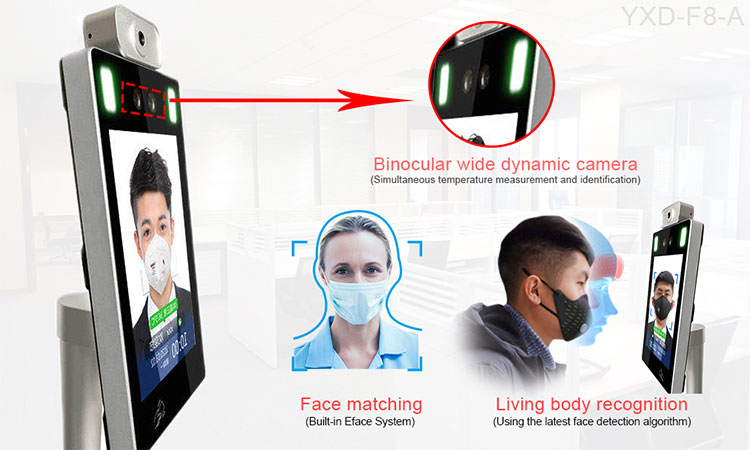 Using the face recognition temperature kiosk can not only measure the temperature, but also meet the attendance requirements, and its function is also very complete, 1 second non-contact body surface temperature detection, rapid screening to avoid cross-infection, if the detection is overheated, the face recognition temperature The measurement system will refuse to open the door, and the platform will detect and control the face to collect water and reports in real time. It can grasp the health information of all employees at a glance, and can provide data interfaces to other platforms to achieve health big data links.

With the wide application of health codes in various places and the innovation of face recognition terminal LCD touch screens, infrared temperature measurement face recognition touch screen kiosks that can be connected to epidemic prevention health codes have come out. Institutions and others have begun to use such face temperature measurement equipment. The core application functions include: face recognition, non-contact facial temperature measurement, mask recognition, verification, identification of health code status, high temperature warning, access control, and check-in and attendance, etc. Features.

The vertical face recognition measurement touch kiosk includes various versions of forehead temperature measurement, thermal imaging, etc., face detection and recognition analysis algorithms for masks, integrated infrared temperature measurement function modules, and can be used for gates and access control scenarios. Further develop rapid temperature measurement, high-efficiency information security problem determination and pass, human temperature binding and traceability. It is suitable for multiple economic business operation modes such as "access control, turnstiles, intelligent welcome, visitor management, attendance, conference and travel services", and can be used for a long time after the end.

YXD-F8-A is been used widely in Schools reopen, Shopping Mall, Police station, retailers .. with the best the support and the 
good quality, YXD-F8-A get more and more good rewards around the worlds powered by the eface FR algorithm