Asianda Commercial display appear on 2015 DSE in Las Vegas
Published:2015-04-15
Views:32768
Asianda Attend New commercial display appear on 2015 DSE in Las Vegas
    At March 11 , 2015 , Asianda chairman Mr. Ou lead our professional elite team arrive Las Vegas , The US DSE digital signage exhibition will opening at Las vegas "the entertainment capital of the world"
    For digital signal industrial , DSE , which hold at the beginning of every year always can reflect the industrial' s development trend and direction of this year . According to the trend of recent years , except the traditional digital signage product , The emerging commercial digital  products is growing thunder .China's leading HD commercial display show enterprise, Asianda , their new product which shown at DSE , will be a hot topic on the 2015 DSE exhibition .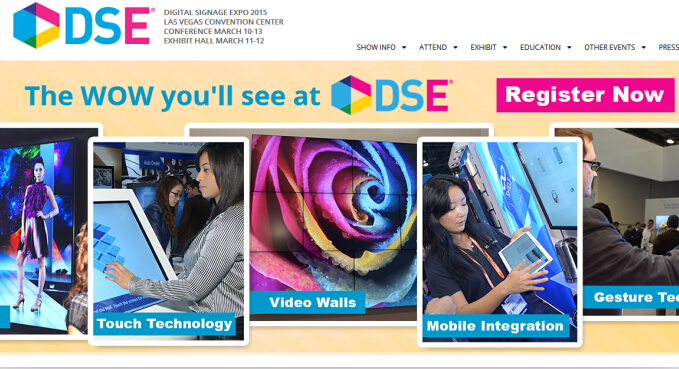 Naked eye 3D --- More realistic visual impression When it comes to visual effect, we have to mention "3 D", However, different from those application place such as digital cinema,Digital signage industry do not have the 3D glasses for the audience,Therefore, introduction the technology of glasses-free 3D seems to be more practical .
Asianda New product -- glasses free 3D advertising , size is 2101*1229*112mm , will be shown on DSE at 11th and 12th March , Asianda glasses-free 3D advertising machine is good for advertising 
operators and digital signage network operators attract customers attention and participation ,good for promote publicity . Many practical cases have indicated that the introduce of 3D , Can attract customer's attention . extend their stay time , And promote them to participate in interactive's enthusiasm, thus improve propaganda effect .
4K Ultra high outdoor lcd advertising --High-definition picture Although 4K high-definition technology is not a fresh topic in the display industry , 4K tech Had been very common in projector, TV, etc ,and 4K appear on the DSE exhibition also with a high
frequency .But the development of technology has no end , 4K technology is very popular these two years , at the Beginning of 2015 DSE exhibition , Asianda, the more mature "4 k" technology product will be more depth of penetration in the field of digital signage .
At this DSE , Asianda launched 65 inch 4 k ultra hd outdoor advertising machine will be shown on the stage , in addition to 4K display tech ,The rain and lightning protection, sun readable , energy saving, the wireless control and so on many powerful features , Will become the cost-effective outdoor advertising machine .
The fourth generation LCD splicing video wall-- intelligent wireless control. Asianda Displayed the  lcd video wall, touch kiosk, and the commercial display monitor, digital signage, 

Asianda the fourth generation of LCD splicing screen is a star product on behalf of the intelligent wireless control technology products ,Wireless control technology plays an indispensable role in the digital signage applications, In fact, the behind-the-scenes role bearing the important task of signal transmission and decoding , also the eventually  Quality assurance of the sign content rendering ,the intelligent wireless control technology  introduction of Asianda will be the important great watch on the exhibition .
Asianda chairman Mr.Ou consider that The application of science and technology is increasingly widespread the science and technology demand of consumers also turn to More delicate and personal.Under the wave of intelligent life , Create commercial advertising with double -way interactive , intelligent, digitization and other diversified services ,Will become a new potential for the development of this industrial .Asianda will show all of their new product on 2015 DSE ,welcome all over the world clients visit and experience our new product in out booth .  

Exhibition name:2015Digital Signage Exhibition
Exhibition time: March 11th ~12th ,2015
Address:The Las Vegas convention center
Asianda Booth number:Booth#427