75 outdoor bus station advertising digital signage project in Switzerland
The municipality of Bussigny, in the Swiss canton of Vaud, borders Geneva, Neuchâtel, Fribourg, Berne and Valais (west to east) and has a population of approximately 9,000.
In order to improve the public transportation experience of passengers, the municipality is creating smart and environmentally friendly cities and looking for manufacturers of digital signage for outdoor bus stations in China. In this project, we once again innovated through digital bus stations with interactive displays. In addition to helping improve the quality of life, they also improved mobility and traffic flow, provided citizens with dynamic communications and ensured the city Safety.

The Challenge

The outdoor solution needed to be able to withstand the elements, being exposed to extreme all-weather conditions all year round. Since the solution was to be installed in a public environment, it also had to be impact resistant to protect against potential damage from vandalism. Furthermore, it needed to offer the best image quality so content would always be clearly visible, even in direct sunlight.
As cities develop and public transportation options continue to evolve, citizens and tourists may encounter difficulties when they want to move from one location to another. With Smart City Bus Stop Digital Signage Solution, this is no longer a problem. Through intelligent bus shelters, information can reach citizens quickly and effectively.

The Solution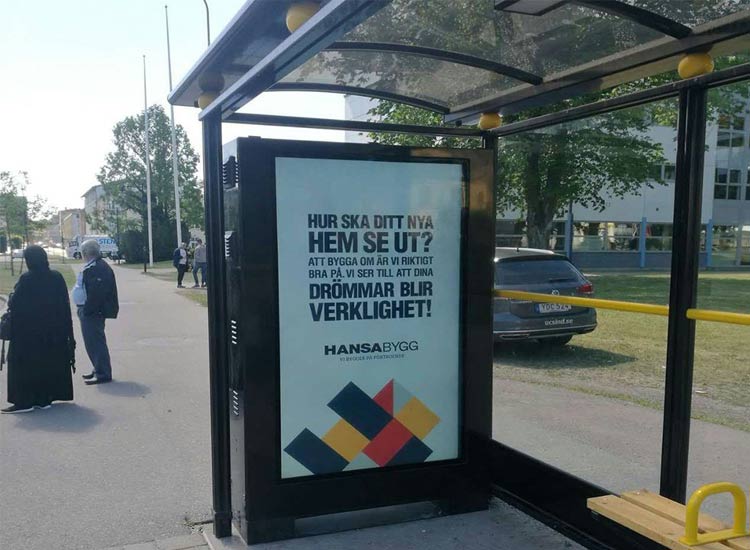 Yaxunda has extensive digital signage experience, especially with towns and cities seeking to embrace smart technology to entertain, inform and enhance urban life. Our High Brightness Outdoor Digital Signage is manufactured specifically to perform in brightly lit environments, even in direct sunlight, making it ideal for outdoor applications. With a fully protected IP65 rated enclosure, you can be confident in this screen's reliability and longevity. Pro Display offers additional extras for this product, including a WiFi / LAN module, enabling remote updating of content and scheduling.

Dynamic Bus Shelter 75inch Public Dual-Sided
Product application

Available as a wall mounted screen from sizes 43″ through to 86″ and a freestanding advertising kiosk in sizes 43″ to 86″, in 16:9 aspect ratio, 2500 and 3000nits.the Outdoor High Brightness Screen is perfect for most typical digital signage applications.
Such as bus station,car shop and other project.
Features & Advantages
        Intelligent fan integrated temperature control, to meet the - 20 - +50 degree outdoor environment, the display screen does not blacken, the whole machine works normally;
        Axial fan matching fan speed control board, automatic temperature sensing, automatic regulation of fan speed, energy saving and power saving, prolong fan service life
75 outdoor digital signage is no stranger to cold winters or hot summer- that's why our outdoor LCD signage is 100% weatherproof from
 -20°C to +50°C. Our units are equipped with internal air filtration systems to protect against dust, salt, air and more, and auto-light
sensors to ensure optimal brightness in any environment.
Protective Glass (IK10 Certified)
        1.5mm SGCC galvanized steel plate
        4mm AR high light transmission tempered glass, tempered and explosion-proof
        The Double sided outdoor display with sheet metal shell is made of 1.5mm SGCC galvanized steel plate, the inner layer is sprayed with zinc-rich base powder, and the surface layer is sprayed with DuPont outdoor plastic powder protection. The service life is guaranteed to be more than 10 years
        Whether you're in need of an or have any questions, our support team is there to help. With 24/7 assistance, technical help is never more than a message away.

        There has never been an outdoor display built to withstand the harsh outdoor elements like ours. This display is the perfect digital signage solution for any professional application.
Yasinda has provided strong support for this project, providing successful outdoor solutions and technical advice and consultation. The local government is considering installing more outdoor kiosks this year, and they will definitely seek cooperation more items with YaXunda in the future